Comedy, in which the dictator wakes up in modern-day Berlin, includes Borat-style interactions between the dictator and the public.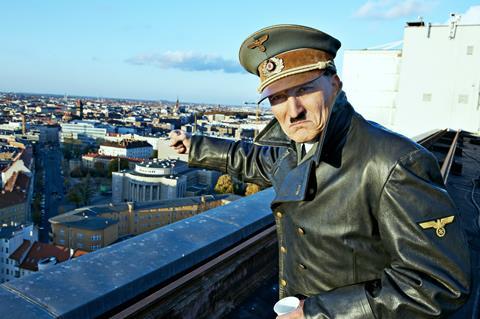 Beta Cinema has secured world sales on German-language comedy Look Who's Back, which has made more than $10m in Germany and recorded more than 1 million admissions in its first two weeks of release.
Adapted from Timur Vermes' best-selling novel, it imagines what would happen if Adolf Hitler woke up in modern-day Berlin.
Beta will introduce the film to buyers at the AFM (Nov 4-11).
Directed by David Wnendt (Wetlands, Combat Girls), the film sees lead actor Oliver Masucci interact in character with normal people in documentary-style scenes. This is combined with scenes from Vermes' 2012 book, in which Hitler becomes a media celebrity.
Look Who's Back is produced by Mythos Film in co-production with Constantin Film. Producers are Christoph Müller and Lars Dittrich, Executive producers are Oliver Berben and Martin Moszkowicz, Associate producer is Sergej Rubinstein.
Support came from Medienboard Berlin-Brandenburg, FFA, Film- und Medienstiftung NRW and DFFF.