BFI National Archive makes key hires for curatorial team.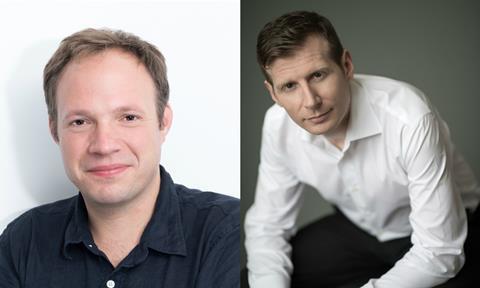 The British Film Institute (BFI) has appointed Will Massa and Danny Leigh to the curatorial team for its BFI National Archive.
Leigh is a journalist with more than 20 years experiences working in print, for the FT and Guardian, as well as on television where he is co-host of the BBC's long-running film programme Film 2017.
He joins the BFI as senior curator of fiction film and television and will have a remit including developing and promoting the current collection, as well as building the archive. He took us his position yesterday, June 26.
Massa joins from the British Council's film department where he was senior programme manager, working on a variety of UK film showcase projects across the Americas and Europe. Prior to that role, he worked in talent development at regional screen agencies Screen Yorkshire and North West Vision+Media.
Massa has been appointed curator of contemporary fiction film, a newly created role. He joined the BFI In May.
They will both report to Robin Baker, BFI Head Curator.
Danny Leigh said: "A place is nothing without memory, and in Britain the BFI National Archive is our national memory kept alive in moving pictures. You don't get many chances to shout from the rooftops about screen history at the same time as celebrating the most vital film and TV happening now, and I feel very lucky because this new role at the Archive gives me exactly that chance. It's going to be a thrill and a privilege to make it my new home."
Will Massa said: "I am absolutely thrilled to be joining the BFI's Curatorial team. It's a real privilege to join such a passionate group of experts and I'm looking forward to engaging with filmmakers and the broader industry to make sure that contemporary British filmmaking is comprehensively represented within the national collection."
Robin Baker, BFI head curator, BFI National Archive added: "We're delighted to be welcoming Will and Danny to the BFI's team of expert film and TV curators, bringing an extraordinary range of knowledge and experience with them. They will play a vital role in building the national collection of film and TV.
"As well as developing the BFI's cultural programme Will and Danny will be working with contemporary filmmakers, production companies, broadcasters and festivals to ensure that the BFI is able to collect the best new British work – and that it is safely preserved in the BFI National Archive for future generations.
"The story of British film and TV is full of missing titles: films and programmes that were lost or wiped. In the digital age there is an even greater risk of films going AWOL, maybe forever. So Will and Danny will be looking for the support of the filmmaking community to make sure that new films are safe and fully preserved as soon as they are made."