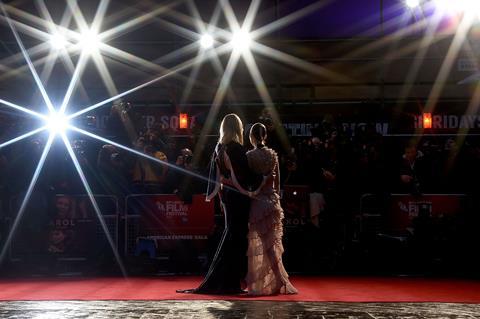 The British Film Institute (BFI) has formally begun its search for a new festivals director to take over from Tricia Tuttle.
Tuttle is moving on after officially taking on the role in 2018, having previously held the post of interim festival director for a year and deputy head of festivals for five years.
The role, which comes with an annual salary of £85,000 ($105,200), will include festival director of the flagship BFI London Film Festival (BFI LFF) and also LGBTQIA+ festival BFI Flare, which next takes place March 15-26, 2023.
It is a fixed-term contract of three years, with the potential to extend for a further one to two years.
Tuttle is staying on in a part-time role until March 31 to help forward planning for LFF 2023 and delivering Flare with senior programmer Michael Blyth. The team also includes Anu Giri, head of business and operations, and festival producer Olivia Howe making operational decisions alongside the BFI's executive director of public programme and audiences Jason Wood.
The recruitment comes at a time when the BFI has further key gaps to fill. Neil Peplow is exiting as director of international and industry affairs in January to be director and CEO of the London Film School and a head of skills role is also now being sought.
Screen speculates on the figures many in the industry believe would be a good fit for the prestigious festival directors role.
Possible contenders
Ever since Tuttle revealed she was leaving, the industry has been abuzz about who will fill her well-liked shoes.
Tuttle is from North Carolina and Screen understands another LFF director with a North American sensibility is a strong possibility.
Tabitha Jackson is a name that keeps cropping up. The UK-born, US-based Jackson stood down in June as Sundance festival director after two years in the role.
Poland-born Toronto senior international programmer Dorota Lech and UK-born SXSW programmer and consultant Jim Kolmar could also be in the mix.
US industry veteran Jacqueline Lyanga's European-leaning tastes could put her in good stead. She is currently the US delegate to the Berlinale, and was director of AFI Fest for eight years. She has also worked for IMDb, as artistic director for Film Independent in Los Angeles and founded Global Cinematheque in 2020, a US-based organisation to promote international cinema and talent.
Another international festival expert who may be polishing off his CV is Kaleem Aftab, presently director of international programming for Red Sea International Film Festival, and a freelance journalist.
Sydney Film Festival director Nashen Moodley has experience running a big audience-facing festival and could follow in the footsteps of fellow Australians, former LFF director Clare Stewart and Kristy Matheson, creative director for this year's edition of Edinburgh International Film Festival's (EIFF).
Several names from the industry have been suggested to Screen as possible left-field ones to watch.
Modern Films' director of exhibition and programming Anna Germanidi grew up in Greece and is now based in Rotterdam. She has previously enjoyed stints at International Film Festival Rotterdam and the LFF.
London-based Corrina Antrobus, former communications manager at Picturehouse, now arts and communications officer for the London Borough of Hackney, founded and ran her own festival, The Bechdel Test Fest, championing female representation in film.
Londoner Ashley Clark is curatorial director at the Criterion Collection in New York. Clark was a regular BFI programmer and events host before taking up a role as director of film programming at the Brooklyn Academy of Music.
And former BBC Film exec Rowan Woods has experience as a BFI and LFF programmer and as festivals liaison at British Council. She is also now an acquisitions consultant for Shudder/AMC.
Inside job?
Blyth, senior programmer for BFI festivals and working across LFF and BFI Flare, would be a neat fit. He has been part of the festivals fold since 2007.
Also to be considered is rising star Anna Bogutskaya, a former assistant to previous festivals director Clare Stewart. Bogutskaya has previously held the post of film and events programmer at the BFI, co-hosts the BFI podcast and is director of female-focused short film festival Underwire.
The recruitment process is being led by Wood, with an application deadline of January 16, and first and second interviews taking place on February 1 and February 8 respectively.