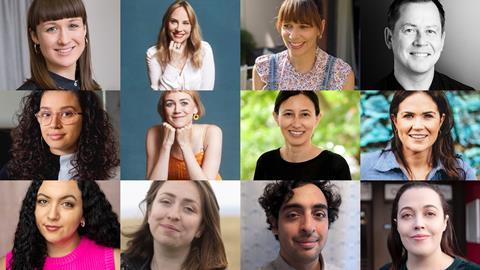 British Film Institute (BFI) Network – a strand of the BFI that exists to discover and support writers, producers and directors at the start of their careers – has named the 12 up-and-coming producers from across the UK who will take part in the six-month professional development programme, Insight, including Screen Rising Star Scotland Reece Cargan and Hoard associate producer Cheri Darbon.
Screen Yorkshire is delivering the training, supported by National Lottery funding and led by CEO Caroline Cooper Charles and senior talent executive Jo Schofield with additional support from a range of industry professionals.
A BFI statement said the programme has "a focus on supporting underrepresented talent, Insight aims to equip producers at a formative stage of their career with the confidence, skills and knowledge to realise their creative ambitious and to build sustainable businesses".
It will take place as a mixture of in-person, online and hybrid events across the UK, with the cohort also given the opportunity to take part in the European Film Market in Berlin.
"It is vital to develop and train our next generation of producers in order to bring powerful UK-driven stories to the screen. With Insight, we aim to equip this dynamic, diverse and exciting cohort with a comprehensive and 360° understanding of the role of a producer," said Alice Cabañas.
This is the second edition of Insight, with alumni from the first edition including Douglas Cox, who produced Bifa-nominated Host and Sophie Reynolds produced ITV medical thriller Malpractice.
BFI Network Insight 2023 participants
Reece Cargan – founder of Scottish production company Bombito Productions, with a slate that focuses on intersectional LGBTQIA+ stories and voices. Cargan represented Scotland at International Film Festival Rotterdam (IFFR) Producer's Lab and was the only UK producer selected for European Audiovisual Entrepreneurs (EAVE) 2022 producer's workshop with feature A Good Spell.
Cheri Darbon – founder of June & Stella productions, with an interest in internationally-appealing genre films and TV. She is associate producer on Screen Star of Tomorrow 2022 Luna Carmoon's debut feature Hoard, backed by BBC Film and BFI.
Nan Davies – developing a slate of features examining contemporary social themes through Cardiff-based company One Wave Films, previously developed and produced non-scripted formats for Channel 4 and BBC, attended Edinburgh International Film Festival (EIFF) Talent Lab in 2022 and is part of the 2023 Birds' Eye View Filmonomics cohort.
Suzanne Garnett – produced short film Z1, 2013 winner of Bifa for best short film. She founded Cumbria-based Eighty-Eighty-Ten Productions, where projects in development include Bickershaw 72 with writer Jill O'Halloran.
Danielle Goff – produced the 'Unearthed Narratives' short film slate with DBK Studios and Sky and is currently development producer on Sky drama series Promise Land. Goff took part in the EIFF Talent Lab in 2022 and is a participant in Disney's short form incubator programme, Imagine. She is developing a slate of feature film projects that centre on ethnic-minority, working class and queer stories.
Jessi Gutch – co-director of Fig Films. Gutch is living with incurable ovarian cancer, and is committed to working with disabled cast and crew, and representing mortality and illness more interestingly. She is an alumni of industry schemes including BFI Network@LFF, Edinburgh Talent Lab, Sheffield Doc/Fest: Focus Filmmaker Talent, and Film London's PFM (New Talent).
Cat Marshall – Sheffield-based producer, previously working at Warp Films for over nine years, with credits including associate producer on Bafta-nominated feature Everybody's Talking About Jamie.
Rami Sarras Pantoja – London-based producer, whose short Lucky Break was Bafta-nominated in 2021. He founded production company Rasp Films, to develop and produce a slate of stylised commercial feature films.
Shauna Shivers McAtamney – Northern Ireland-based producer, whose 2021 short Just Johnny premiered at Galway Film Fleadh. She is currently in development with her first feature project, The Wise Guy.
Lily Slydel – works in development at Greenacre Films and previously held development and acquisitions roles at financier New Sparta Films and at the BFI. Slydel is currently developing a feature film with Film4.
Naomi Wallwork – produced feature documentary Yellow Is Forbidden, which premiered at Tribeca in 2018 and was New Zealand's foreign language Oscar submission. In 2023, is aiming to package and finance feature film Standing Up, written by New Zealand comedian Abby Howells.
Dominique Webb – Bafta Elevate producer, who was associate and executive producer on feature Lapwing, and has produced work for Creative England, the BFI, the BBC and Arts Council England. Her East Midlands-based company, Inceptive Films, has a slate of film and TV projects. She is an alumna of EIFF Talent Lab, Creative Enterprise's Market Trader and Talent Lab Connects and is a masterclass tutor for the BFI Academy.