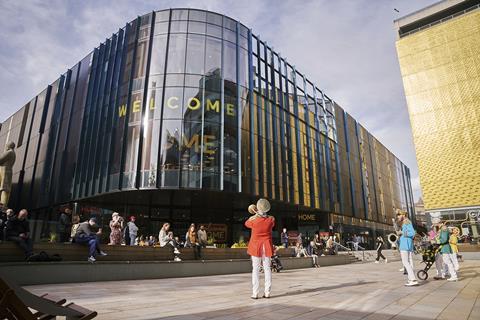 The Independent Cinema Office, HOME in Manchester, Film London, Screen Scotland and Northern Ireland Screen are among 11 UK organisations and venues to receive total funding of £15.2m across three years from the British Film Institute (BFI) to support audience growth, talent development and educational programmes.
From April, the partners will use the money to continue delivering the BFI's Film Audience Network (FAN), talent development programme BFI Network, and the newly-named education programme BFI Film Academy Plus in their respective regions.
This is the first allocation of money in the wake of the BFI's 10-year strategy titled Screen Culture 2033 which was published in September 2022 and outlines the organisation's plans to support the industry over the next decade with reduced National Lottery funding (approximately 10% less than previously).
Scroll down for the full list
This funding aims to address some of the objectives laid out in the strategy, including ensuring UK-wide access to screen culture, implementing long-term strategies for skills and development, and supporting the exhibition workforce.
The BFI will work closely with the organisations to ensure the funding "effectively responds to the varying needs of the public and industry in different parts of the country".
More funding for UK partners to support education and skills activity will be announced by the BFI in the coming weeks.
"Our partners are fundamental to the successful delivery of our ambitious National Lottery Strategy across the UK," said Harriet Finney, deputy CEO of the BFI. "We are very much looking forward to working with the venues and organisations announced today to ensure the BFI Film Audience Network, BFI Network and BFI Film Academy Plus programmes evolve and grow to meet the changing needs of our sector.
"Driven by our belief everyone should have access to screen culture – from experiencing a diverse range of films in cinemas through to creating original screen works and a chance to forge careers – we are supporting these fantastic partners so they can bring those opportunities to local communities and people of all backgrounds, across the whole of the UK."
The 11 partners receiving BFI's £15.2m funding 2023-26:
London: Film London (£1.27m) to manage BFI Film Audience Network (FAN) and BFI Network activity
Midlands: Broadway in Nottingham and Flatpack in Birmingham (£1.94m) to manage BFI FAN, BFI Network activity and BFI Film Academy Plus
North England: Showroom in Sheffield and HOME in Manchester (£2.22m) to manage BFI FAN, BFI Network activity and Film Academy Plus
Northern Ireland: Queen's Film Theatre in Belfast (£0.98m) to manage BFI FAN and BFI Film Academy Plus; Northern Ireland Screen (£0.48m) will deliver talent development activity as part of BFI Network
Scotland: Glasgow Film Theatre (£1.02m) to manage BFI FAN and BFI Film Academy Plus; Screen Scotland (£0.63m) will co-fund talent development activity as part of BFI Network as well as support BFI FAN
South East England: the Independent Cinema Office* (£2.53m) to manage BFI FAN, BFI Network activity and BFI Film Academy Plus
South West England: Watershed* in Bristol (£2.52m) to manage BFI FAN, BFI Network activity and BFI Film Academy Plus
Wales: Chapter in Cardiff (£1.03m) to manage BFI FAN and BFI Film Academy Plus; Ffilm Cymru Wales (£0.63m) will deliver talent development activity as part of BFI Network
*The ICO and Watershed will also deliver significant UK-wide FAN activity