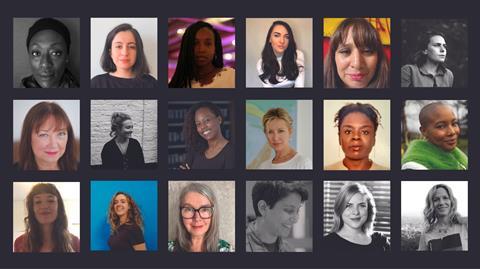 UK-based female-focused film organisation Birds' Eye View has revealed the 18 first-time filmmakers selected for this year's Filmonomics business training programme.
The cohort have been chosen for the sixth iteration of the scheme, which is aimed at feature writers, directors and producers of marginalised genders who are either on the verge of making their first feature, or have just made or released their debut.
The 18 participants (pictured above, L-R) are Afia Nkrumah, Bircan Birol, Cherish Oteka, Emily Everdee, Fozia Khaliq, Isla Badenoch, Jo Tracy, Katie Dolan, Lesley-Anne Macfarlane, Libby Potter, Lidz-Ama Appiah, Liv Little, Lizzie Mackenzie, Lowri Roberts, Meloni Poole, Mo Wani, Rachel Ramsay and Zoe Dobson.
The scheme is funded by ScreenSkills, as part of the BFI Future Film Skills programme using funds from the National Lottery and has been running since 2014.
Those selected include documentary filmmaker Oteka, whose short The Black Cop won best British Short Film at the Baftas earlier this month, and independent producer Everdee, whose shared a BIFA nomination with director John Ogunmuyiwa for their short Mandem.
Documentary maker Mackenzie has also been selected, following her debut feature The Hermit Of Treig, which received a buzzy premiere at this year's Glasgow Film Festival, while documentary producer Dobson is known for making International Emmy-nominated series Why Do We Dance? and feature doc Duran Duran: There Is Something You Should Know, which was acquired by the BBC, Netflix and Showtime
Further participants include UK and Caribbean-based producer Macfarlane, whose upcoming projects include documentary 1990 and her first fiction feature Little English, directed by Pravesh Kumar. Her sci-fi short Immune, directed by Robert Macfarlane, picked up awards at last year's Seattle Film Festival.
Former BBC reporter and presenter Libby Potter has also been selected as well as Appiah, a former CNN and NBCUniversal series producer who executive produced Queen Of Glory, which premiered at Tribeca 2021 where it won best new narrative director for filmmaker Nana Mensah.
The programme is for professionals early in their career and aims to bridge the gap between development and distribution. It covers finance, marketing, exhibition and audience development, and includes sessions on presenting with trained psychologists, dealing with rejection, future trend-forecasting and networking events.
Speakers and coaches include BFI Film Fund head Mia Bays, Cornerstone co-president Alison Thompson and ComScore Movies executive director Lucy Jones. The course will be led by Kate Gerova (course facilitator), Melanie Iredale (Birds Eye View director) and Simone Glover (Birds Eye View training manager).
Filmmakers and projects previously supported by the programme include Blue Story and Boxing Day producer Joy Gharoro-Akpojotor (a Screen Star of Tomorrow in 2020); Paul Sng, who developed BIFA -winning Poly Styrene I Am Not A Cliché on the programme; and Thembisa Cochrane and Georgina Paget, who made The Colour Room for Sky in 2021.