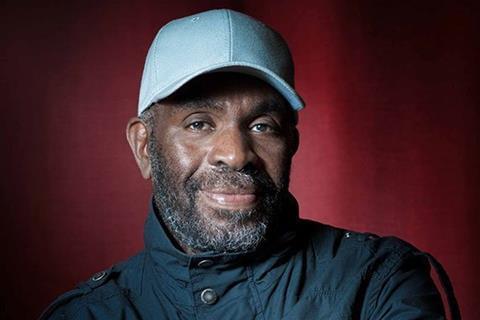 UK filmmaker Menelik Shabazz, known as a pioneer in the development of contemporary Black British cinema, has died aged 67.
Shabazz's death was confirmed to Screen by his daughter, film curator Nadia Denton, who said he died in Zimbabwe of diabetes-related complications.

The writer, director and producer had relocated to Zimbabwe to work on a new project, The Spirits Return, his first full-length fiction feature in 40 years.
Shabazz is known for films including the 1981 drama Burning An Illusion, which is said to be the second feature film by a black director produced in the UK at that time and won the top prize at the Amien International Film Festival.
Further notable titles include the 1981 short Blood Ah Go Run, following a seminal march of Black people through London, and 1986 documentary The People's Account, centered on a London estate that had been the scene of serious rioting between police and residents.
All three of these titles were programmed at this year's Sheffield Doc/Fest, celebrating the history of Black British cinema.
Born in Barbados in 1954, Shabazz moved with his family to the UK when he was five. He first showed an interest in making films as a teenager, while studying at North London College.
Shabazz enrolled at the London International Film School but was only able to attend for a short period, as his local London council refused to give him the 'discretionary grant' required.
But having been inspired during that short period to pursue filmmaking, he made his first short in 1976, Step Forward Youth, about Black youngsters in London.
After making Burning An Illusion, Shabazz co-founded the Ceddo Film Video Workshop in 1982 with a vision to empower Black film production, training and film screenings. Funded by UK broadcaster Channel 4 and the British Film Institute, Ceddo created film production and community training initiatives, and hosted a number of screenings with filmmakers including Spike Lee.
He stepped back from filmmaking in 1998 in frustration, having been unable to raise funding from within the industry to produce further drama features.
Shabazz went on the publish Black Filmmaker magazine, which ran for nine years, and founded the the BFM International Film Festival in 1999, which lasted 11 years.
In 2007, Shabazz went to Nigeria to work with investors and produce film projects in Nollywood, reigniting his passion for filmmaking. The following year, he began work on feature documentary The Story Of Lover's Rock, about reggae in the UK, which was released in 2011.
More recently, he directed documentary Looking For Love, which explored relationships between Black couples in the UK.
Paying tribute, Akua Gyamfi, founder of the British Blacklist, told Screen: "Menelik Shabazz was a terribly underrated British filmmaker who shared his vision and so fearlessly and proudly. His work is testament to the rich and important presence of Black people in the UK. A sad loss to the film industry and an inspiration to many, including myself."
Shabazz is survived by two daughters.