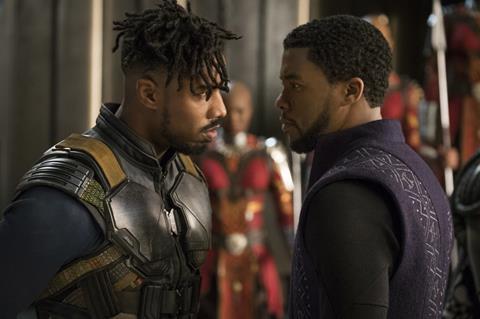 | Rank | Film / Distributor | Weekend Gross (Fri-Sun) | Running Total | Week |
| --- | --- | --- | --- | --- |
| 1 | Black Panther (Disney) | £3.75m | £35.375m | 3 |
| 2 | Red Sparrow (Fox) | £1.67m | £1.84m | 1 |
| 3 | The Greatest Showman (Fox) | £1.24m | £35.26m | 10 |
| 4 | Game Night (Warner) | £1.09m | £1.09m | 1 |
| 5 | Lady Bird (Universal) | £931,488 | £2.63m | 2 |
Today's GBP to USD conversion rate - 1.38
Disney
The snow may have caused widespread disruption to this weekend's cinema-going, with many people around the country stuck in their homes or turning up to shuttered venues, but those who did brave the elements still delivered strong results for Black Panther, which fell only 46% in comparison with the previous weekend.
The film added £3.75m to take it up to £35.375m to-date. The film is rapidly catching up with fellow superhero Captain America: Civil War (£36.95m) and Batman v Superman (£36.58m). It could potentially become the highest grossing Marvel film of all time, which is Avengers Assemble on £51.87m, or the highest-grossing superhero film, which remains The Dark Knight Rises on £56.26m, though both of those targets look ambitious at this point.
Coco fell a slim -27% to £556,000, which puts it up to £17.275m to-date. The film has topped the lifetime grosses of The Good Dinosaur (£15.1m) and Cars (£16.45m). Disney will be hoping it's Oscar win will provide a boost.
Fox
The Jennifer Lawrence star vehicle Red Sparrow opened with £1.67m from 526 sites this weekend for an average of £3,152. Including previews, the film is up to £1.84m.
Now in its tenth week, The Greatest Showman saw a still slim drop-off of 38%, taking £1.24m for £35.26m to-date. The run looks to be ending now, but expect it to hang around for a few more weeks.
Warner
Adult comedy Game Night opened in fourth position this weekend with £1.09m from its 480 screens for an average of £2,271. Directors John Francis Daley and Jonathan Goldstein previously teamed on 2015 comedy Vacation, which posted a bow of £606,000.
Universal
In its second official week, Lady Bird fell a tiny 2% with £931,488. The film is up to £2.63m and good word-of-mouth could keep its run going.
Fifty Shades Freed dropped a hefty 71% this weekend, adding £346,818 for £17.01m to-date.
Darkest Hour, starring Gary Oldman in his now Oscar-winning lead role, is now past £23m, while Phantom Thread is coming to the end of its run on £2.47m.
eONE
I, Tonya dropped 35% in its second week, adding £547,455 for £2.01m to-date, while Finding Your Feet fell a heftier 50% in its second week, adding £465,622 for £2.13m to-date.
Studiocanal
Early Man added £408,055 and is now past £10m. The animation has now surpassed the grosses of The Lego Ninjago Movie and Ferdinand.
Sony
Jumanji: Welcome To The Jungle added £170,000 for £37.92m to-date.
Call Me By Your Name, which picked up an Oscar last night for its adapted screenplay, registered the only uptick on the chart, adding £21,300 for £1.66m.
Insidious: The Last Key is up to £5.3m after adding £6,200.
Sky Cinema
The UK's widest ever day-and-date release, family animation Monster Family, always faced an uphill battle due to it entering a crowded family market and the film's availability on the Sky Cinema platform concurrently with the theatrical rollout.
Debuting in 137 screens, the film posted an opening of £126,019 with 10 sites yet to report takings, a decent result considering the challenges. Altitude serviced the release.
Curzon
The now Oscar-winning Chilean drama A Fantastic Woman posted £97,813 from 39 screens, including £34,755 in previews. Following last night's Academy Award win, Curzon will be hoping the film will have a long tail.
Trafalgar
Flames Of Paris, from the Bolshoi ballet, posted a non-final £73,792 from 130 sites.
Arrow
Dark Driver dropped 64%, adding £5,855 for £58,041 to-date.
Lionsgate
Chinese epic Monster Hunt 2 added £5,530 and is up to £60,222.
Altitude
Loveless took £4,636 from its eight sites and is now on £286,217.