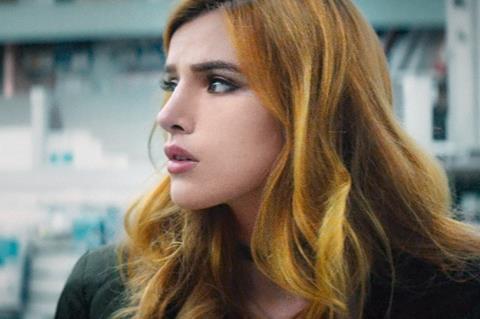 Blue Fox Entertainment has come on to handle international sales at the EFM on Unified Pictures' thriller Ride, starring Bella Thorne of Sundance sensation Assassination Nation.
Jeremy Ungar wrote and directed the feature, which takes place over the course of one night in Los Angeles as a young woman hails a ride on an app unaware that she will be joined by a sociopath.
Will Brill and Jessie T Usher round out the key cast. Blue Fox will show buyers in Berlin a first-look promo from the production, which is in post and has gone through Unified Pictures' genre fund.
Unified's Keith Kjarval and Tyler Jackson are producing with Sefton Fincham of Look To The Sky Films. Wayne Marc Godfrey and Robert Jones of The Fyzz Facility serve as executive producers.
Todd Slater brokered the deal on behalf of Blue Fox Entertainment with US sales agent Endeavor Content and lawyer Elsa Ramo on behalf of the filmmakers.
Thorne is coming off a rapturous reception in Sundance for Assassination Nation, which sparked the biggest deal of the festival when Neon and AGBO paid $10m for worldwide rights.
Blue Fox's head of international Lisa Gutberlet said: "This edge-of-your-seat thriller shows the dangers that lie at our fingertips every day in our complex technology-obsessed society. Bella Thorne is the perfect star to play this role and to appeal to this young adult age group."