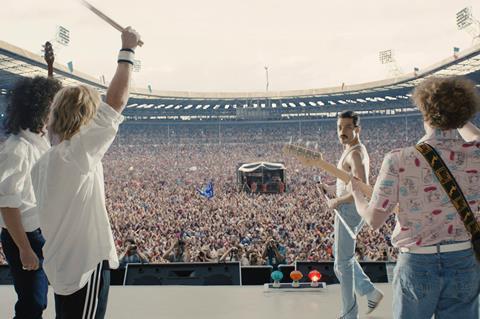 | Rank | Film / Distributor | Three-day gross (Nov 2-4) | Gross | Week |
| --- | --- | --- | --- | --- |
| 1 | Bohemian Rhapsody (20th Century Fox) | £5.7m | £20.4m | 2 |
| 2 | A Star Is Born (Warner Bros) | £1.8m | £22.9m | 5 |
| 3 | The Nutcracker And The Four Realms (Disney) | £1.8m | £1.8m | 1 |
| 4 | Smallfoot (Warner Bros) | £1.1m | £10.2m | 4 |
| 5. | Johnny English Strikes Again (Universal) | £1m | £16.4m | 5 |
Today's GBP to USD conversion rate: 1.30.
20th Century Fox
Bohemian Rhapsody dropped by just 11% to stay top of the UK box office in its second week on release. It took £5.7m over the weekend from 682 locations (a strong £8,441 average), and is already up to £20.4m in the territory.
Although it is behind the £27m second week total of another 2018 musical hit, Mamma Mia! Here We Go Again, its drop is smaller (11% v. 27%). As with the ABBA hits, Fox is hoping the familiarity of the Queen songs will carry it deep into the Christmas period.
Teen drama The Hate U Give fell 56% on its second weekend with £199,141 and is now up to £1.5m.
Disney
Fantasy adaptation The Nutcracker And The Four Realms opened to £1.75m from 578 sites over three days, for a £3,028 site average. This is below the £2.3m three-day from 539 sites (£4,267 average) scored by fellow fantasy title The House With A Clock In Its Walls in September, although the latter had a long run of previews building up to its release.
As a seasonal favourite, The Nutcracker will look to build on the growing Christmas audience in the next few weeks.
Incredibles 2 added £9,000 to reach £56.1m in its 17th week, while Christopher Robin garnered £5,000 in its 12th week for £14.8m.
Sony
Slaughterhouse Rulez, the boarding school horror comedy starring Michael Sheen, Simon Pegg and Nick Frost, grossed £252,000 from 380 sites on its opening weekend, for a low £663 average. It opened on Halloween (Wednesday), and has a total of £395,000 since that day.
Goosebumps 2: Haunted Halloween took £860,000 from Friday-to-Sunday, a 39% drop on what was its third weekend. Buoyed by the midweek Halloween date, it has a £7.1m cume, coming up behind the first title's £9m total.
Marvel Universe title Venom added £506,000, for a £19.6m running cume.
Universal
Sundance comedy drama Juliet, Naked starring Chris O'Dowd, Rose Byrne and Ethan Hawke took £51,813 from 125 locations on opening.
Johnny English Strikes Again topped Universal's holdovers with £1m on its fifth weekend and a £16.4m cume. It will look to hold off the early Christmas titles to sustain hopes of passing the first two films in the franchise, 2003's Johnny English (£19.7m) and 2011's Johnny English Reborn (£20.7m).
The Halloween reboot starring Jamie Curtis brought in £788,634 on its third weekend for an £8.2m cume.
Neil Armstrong biopic First Man dropped 42% on its fourth weekend for £347,404 and a £7.3m running total, while US comedy Night School brought in £75,717 for a £4.6m cume.
Warner Bros
A Star Is Born continued its impressive run, dropping just 16.5% on its fifth weekend to take £1.8m and a £22.9m cume. After five weeks on the chart, it has never dropped more than 26% over a single week.
Family animation Smallfoot fell 28.6% with a £1.1m weekend and £10.2m cume. It has now passed the £9.7m UK lifetime of Warner Animation Group's previous title, 2017's The Lego Ninjago Movie.
Crazy Rich Asians took £18,000 for a £5.9m cume, while The Nun added £5,000 for £11.4m.
Entertainment One
Mike Leigh's Venice title, the historical drama Peterloo, opened to £290,463 from 138 sites, a £2,105 site average. Including previews, the film is now up to £348,696. This was down on the openings of Leigh's other titles from the past decade (2014's Mr. Turner, 2010's Another Year and 2008's Happy-Go-Lucky which all opened at fewer sites).
Fantasy adventure The House With A Clock In Its Walls took £78,130, and is up to £8.3m.
Curzon
Curzon has two Cannes 2018 winners rolling on in UK cinemas. Pawel Pawlikowski's Cold War has now passed £1.1m after an £8,778 weekend, while Matteo Garrone's Dogman took £14,266 and is now up to £146,238.
National Amusements
Japanese animation Mirai, which premiered in Directors' Fortnight in Cannes this year, took £68,462 including £2,236 from previews. The total came from 109 locations, largely through a subtitled screening on Friday evening. An English dubbed screening followed on Sunday afternoon.
Picturehouse
The Wife, starring awards hopeful Glenn Close, continues its impressive tail, adding £28,214 at 59 locations across the weekend for a running total of £1.6m.
Lionsgate
Gerard Butler submarine thriller Hunter Killer took £22,898 for a £789,654 total so far.
Signature Entertainment
Denmark's foreign-language Oscar entry The Guilty took £5,900 on its second weekend, and is up to £18,200.
BUFF Originals
Clare Anyiam-Osigwe's No Shade brought in £2,316 from six sites, with a further £5,222 from previews for a cume of £7,538.
Park Circus
A re-release of Billy Wilder's 1959 comedy classic Some Like It Hot took £11,840 from 17 sites, while the action horror film Mandy, starring Nicholas Cage, brought in £9,698 from 15 sites.
Altitude
Black 47 garnered £4,971 from 15 sites this weekend, in a combined release between Altitude and Wildcard. The film now has £1.7m total in the territory.