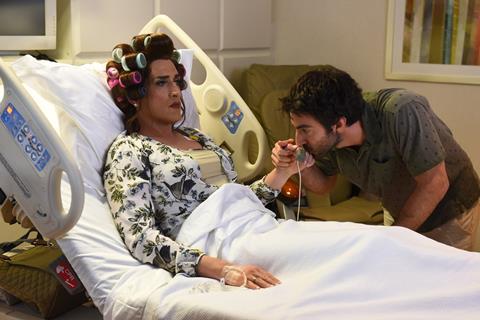 Brazilian films sold fewer tickets last year, although the total box office revenue in the country, BRL$2.7b ($844m), represented an increase of 4.7% over 2016.
For lack of a big entry, such as The Ten Commandments - The Movie, which broke the record for admissions (selling 30.1 million in 2016), Brazilian films sold 18.5 million tickets last year, indicating a fall of 38.5%.
As a result, the box office of local films dropped 28.7%, grossing BRL$252,9m ($79m), despite the number of Brazilian titles released being practically the same of the previous year: 154 features films.
"The recession that Brazil has been suffering finally reached the cinema. It stopped the lower social classes from going to the movies, mainly to see Brazilian films and mid-budget movies," says Paulo Sergio Almeida, director of Filme B, the local theatrical tracking firm which compiled the latest figures.
According to Filme B, local productions accounted for a market share of 10% in 2017, when the general number of admissions fell. The country registered 183 million tickets sold, a drop of 1.5%, compared with 2016.
Cesar Rodrigues' My Mom Is A Character 2, starring TV and theatre comedian Paulo Gustavo, bucked the trend, after grossing BRL$89.2m ($27.8m) last year. Adding revenue from the end of 2016, the film's total rises to BRL$124.2m ($38.8m).
The comedy attracted an audience of 6.5 million spectators in 2017 (9.3 million in total), which was a performance far superior to the other Brazilian films listed among the most viewed. My Mom Is A Character 2 is followed in the ranking by the only three films that surpassed the one million admissions: Polícia Federal - A Lei É Para Todos (1.38 million), Os Parças (1.3 million) e DPA - Detetives do Prédio Azul (1.2 million).
BRAZIL BOX OFFICE TOP 10 OF 2017
(Figures in US dollars)
1. The Fate of the Furious - $41.7m
2. Justice League - $41m
3. Beauty and the Beast - $40.6m
4. Despicable Me 3 - $39.3m
5. Wonder Woman - $ 34.2m
6. Spider-Man: Homecoming - $32m
7. Thor: Ragnarok - $31.2m
8. Logan - $28.5m
9. My Mom Is A Character 2 - $27.8m
10. The Shack - $22.4m
Source: Filme B