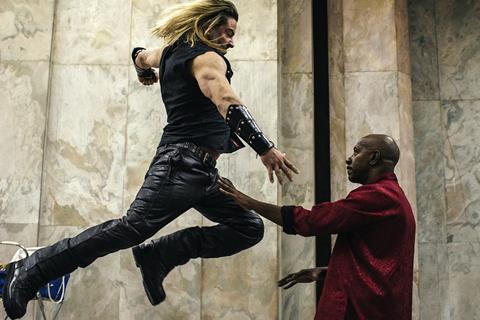 Brazil's Fantaspoa genre festival, billed as the largest of its kind in Latin America, is returning to an in-person event for the first time since 2019 and has unveiled its first wave of titles.
This year's International Fantastic Film Festival of Porto Alegre will take place in five cinemas around the southern city from April 15-May 1. It is bookended by a special opening night centenary screening of F. W. Murnau's vampire classic Nosferatu accompanied by a live soundtrack performed by Carlos Ferreira and Brazilian closing night selection and martial arts stoner comedy The Smoke Master by Andre Sigwalt and Augusto Soares.
Festival directors João Fleck and Nicolas Tonsho said they and their programming team received more than 850 submissions for the 2022 edition, marking a 35% increase over 2021. As in 2020, last year's Fantaspoa played out online with screenings on Brazilian horror streaming service Darkflix and Q&A's and director masterclasses on YouTube.
Approximately 70% of the festival's estimated 175 titles will be available to screen digitally via Darkflix, which is rebranding as Wurlak/Darkflix. The geoblocked screenings have not been confirmed although Screen understands the online offering will comprise most of the 90 shorts and 20-30 features.
The first 40 features to be announced for the 2022 edition include seven world premieres and films that have played Cannes, Annecy, Berlinale, Rotterdam, TIFF, Moscow, Sitges, Sundance, and Tallinn Black Nights.
There are world premieres for: Jorge Sanders' Brother, Kept (Mex); Filipe Gontijo's Captain Witts (Bra); Fabián Forte's Legions (Arg); Chadd Harbold's Private Property (US); Leo Falcão's Subject (Bra); Alexis Bruchon's The Eyes Below (Fra); and The Smoke Master (Bra).
Receiving their Latin American premieres are: Alpha Male (Pol) from Igor Priwieziencew and Katarzyna Priwieziencew; Kei Ishikawa's Arc (Jap); Yugo Sakamoto's Baby Assassins (Jap); Xi Chen's Chicken Of The Mound (Ger-Chi), Jeffrey St. Jules's Cinema Of Sleep (Can); Kim Hye-mi's Climbing (SK); Sylvia Caminer's Follow Her (USA); Adam William Cahill's Follow The Dead (Ire); Abed Abest's Killing The Eunuch Khan (Bra); Neptune Frost (USA-Rwa) by Saul Williams and Anisia Uzeyman.
The list continues with: Kirill Sokolov's No Looking Back (Rus); Takashi Shimizu's Ox-Head Village (Jap); Takayuki Hirao's Pompo: The Cinephile (Jap); Fabrice Eboué's Some Like It Rare (Fra); Soulpark (Hun) by Illés Horváth and Róbert Odegnál; The Beta Test (USA) by Jim Cummings and PJ McCabe; Aristotelis Maragkos's The Timekeepers Of Eternity (Gre); Vincent Grashaw's What Josiah Saw (USA-UK); and Yugo Sakamoto's Yellow Dragon's Village (Jap).
There are Brazilian premieres for: Fong Nickson's Bashira (USA); Miguel Coyula's Blue Heart (Cub); Pierce Berolzheimer's Crabs! (USA); Stefan Lernous' Hotel Poseidon (Neth); Javi Camino's Jacinto (Spa); Aldo Salvini's Moon Heart (Per); and Harry Cleven's Zeria (Belg).
Flip Van der Kuil's Duth entry Downtown gets its international premiere, as do: Max Gold's Fanga (Ice); Jamie Patterson's God's Petting You (UK); Ethan Maniquis' Lemonade (DR); Uģis Olte's Upurga (Lat); Jesus Kid (Bra) by Aly Muritiba is a regional premiere, as are Petrus Cariry's The Beach At The End Of The World (Bra) and The City Of Abysses (Bra) by Priscyla Bettim And Renato Coelho.
Fantaspoa directors Fleck and Tonsho said, "In 2020 and 2021 film entries had been decreasing and, for this edition, we saw a significant increase – both in entry numbers and the overall quality of the projects. We are very proud to say that over 80% of our programme has come directly from FilmFreeway entries, pointing toward a growing interest by the industry in screening at Fantaspoa."