Free In Deed, Chapter And Verse, Blue Hollywood to screen at London festival.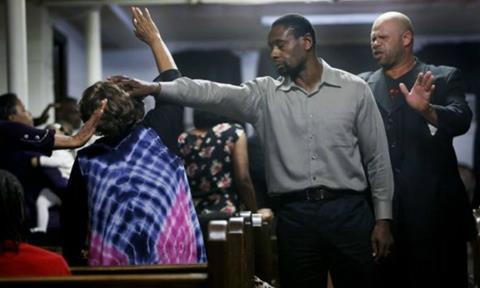 The British Urban Film Festival (BUFF, Sept 6-12) has revealed its line-up for 2017.
Opening the festival will be writer-director Jake Mahaffy's Free In Deed [pictured], about a US church pastor with healing powers, which premiered at Venice in 2015. The screening will be followed by a Q&A with star David Harewood.
Further feature film screenings include Jamal Joseph's Chapter And Verse, about a reformed gang leader in Harlem. Director Joseph (a former Black Panther) and star Daniel Beaty will attend a Q&A after the event.
The festival will also feature Francesco Gabriele's Blue Hollywood, Gillian Scott-Ward's documentary Back To Natural, and documentary Stay Woke, which profiles the Black Lives Matter movement.
Further screenings include two African features: Colin Perry's documentary Black Stars Of Highlife and Shirley Frimpong-Manso's rom-com Potato Potahto.
A masterclass will be held with Get Rich Of Die Tryin' actor Ashley Walters, and an agents masterclass will be held with Shakyra Dowling, Nina Lee, Sandra Thompson-Quartey and actress Kim Vithana.
The festival will also showcase a series of short films and the annual BUFF awards ceremony.
This year, BUFF will be hosted at London's BT Tower, and the festival has also received backing from the telecommunications giant.