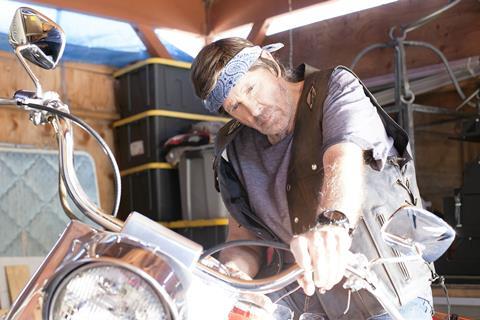 Vision Films is lining up an AFM sales slate that includes female biker thriller Nation's Fire starring Krista Grotte Saxon and Bruce Dern, as well as documentaries on Nikola Tesla, legendary street artist Banksy, and a market screening of crime thriller Adverse starring Mickey Rourke.

Teknocentric's female-centred biker action film Nation's Fire stars Saxon, Gil Bellows and Dern and follows the former leader of a female motorcycle club who reunites with her gang to seek retribution after her son is killed in a school shooting. Thomas J. Churchill directed, and produced alongside Andy Lalino, Phillip B. Goldfine, and Carmine Famiglietti.
Spiritlevel Cinema's feature documentary Banksy And The Rise Of Outlaw Art chronicles the life and career of the world's most renowned and mysterious street artist and purports to include a rare interview with the man himself.
Mickey Rourke crime thriller Adverse also stars Lou Diamond Phillips, Penelope Ann Miller, Thomas Ian Nicholas, and Andrew Keegan. Brian A. Metcalf wrote and directed the story about a ride-share driver with a questionable past who attempts to pay off a crime syndicate to save his sister. Metcalf, Thomas Ian Nicholas produced the Black Jellybeans Productions in association with Red Compass Media.
Teslafy Me directed by Janja Glogovac profiles the life of the Serbian-American inventor and electrical engineer Nikola Tesla and features interviews with his great-nephew William Terbo, Brank Terizic, senior fellow at the Global Energy Center, artist Marina Abramovic, and composer and DJ Gramatik.
The Vision slate includes sci-fi action thriller Transit 17, and documentary The Rolling Stones' Road To Altamont, featuring interviews with the band's tour manager Sam Cutler, Stones photographer Gered Mankowitz, among others.
"Vision Films is well known for our diverse slate of content from compelling independent feature films to timely documentaries," said Lise Romanoff, Vision Films managing director and CEO of Vision Films. "This AFM will be particularly exciting as we recently hired industry veteran Robby Amar as our VP of international sales and brought on Almira Ravil as a sales consultant. Our director of domestic distribution and marketing Kristen Bedno will also be in attendance."
Vision Films will release the aforementioned titles under its DVD and VOD label in North America from November through January.