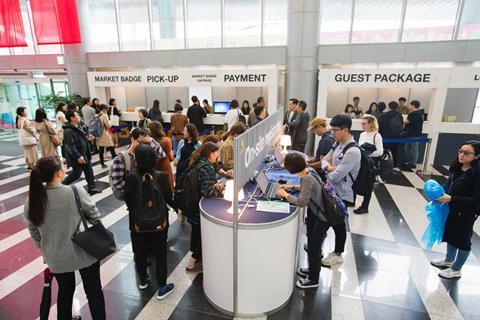 The Asian Contents and Film Market (ACFM) is to launch the Busan Story Market at this year's Busan International Film Festival in South Korea.
The in-person event expands on the existing Entertainment Intellectual Property (E-IP) Market and will be held October 8-11 in the Busan Exhibition and Convention Center (BEXCO), hosted by the ACFM, which runs the same dates.
Organisers stated that although the E-IP Market, established in 2012, "has selected 192 IP submissions over the past 10 years" for business pitching opportunities, the new Busan Story Market will allow content providers to conduct transactions directly through their sales booths on any intellectual property including - but not restricted to - books, webtoons (online comics), web novels, games, and stories.
This will be ACFM's first in-person market that includes foreign booths since the pandemic started.
Daniel Kim, general manager of ACFM, told Screen that he noted intensified interest at Cannes from ACFM participants and potential participants due to two things. The first was the general rise of global prominence of Korean content led by films such as Oscar winner Parasite and Netflix hit Squid Game.
The second was the fact that Asians have been slower to start traveling in the pandemic for a variety of reasons ranging from quarantine restrictions at home and high infection rates to the lack of safety measures abroad. Europeans and North Americans eager to meet with Asians are seeing Busan as the next earliest opportunity while Asians are looking favourably at the more pandemic safety-aware environment and shorter flight times to Busan.
"The Europeans usually come with the European Film Promotion's support in the EFP stand, but we're also talking with the UK and others about national stands," said Kim. "Registration just opened yesterday, so we'll see."
The new market will cooperate with official partners Taiwan Creative Content Agency (TAICCA) and Japan's Visual Industry Promotion Organization (VIPO) as well as receive book IPs from its ASEAN counterparts in Thailand, Vietnam, and Indonesia.
In addition to Seoul International Book Fair and the Busan IT Industry Promotion Agency, a large number of domestic publishers and webtoon/web novel producers are also expected to participate in the market.
The Asian Project Market (APM) will also take place for three days from October 9 under the umbrella of ACFM.
The Asian Cinema Fund (ACF), newly brought under the ACFM this year, recently announced its selection of 13 projects, with the three Script Development Fund titles being invited to APM.
The 27th BIFF will run October 5-14.