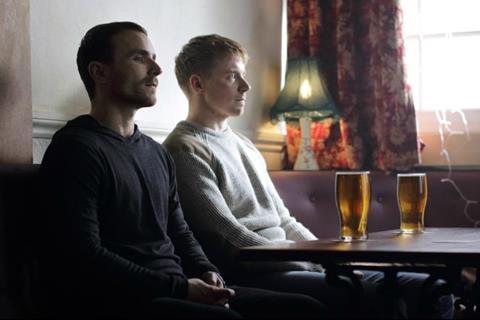 Matt Palmer's Highlands-set thriller Calibre has garnered five BAFTA Scotland nominations.
The film's three stars took all three spots in the best film actor category, for Screen Stars of Tomorrow Jack Lowden (2014) and Martin McCann (2007), as well as for Tony Curran. Palmer has also been nominated for best fiction director, and best writer for film/television. However the film missed out on a best feature film nomination.
Full list of nominations below
Lowden and McCann play childhood friends who find themselves backed into a corner by locals when tragedy befalls their hunting trip to a remote part of Scotland.
Calibre won the Michael Powell award for best British feature film at the Edinburgh International Film Festival in June. It was released globally on Netflix the following day (June 29).
BAFTA Scotland rewards the best talent in film, TV and games produced in Scotland over the last year. Eligible films must have a "strong Scottish connection", according to a BAFTA Scotland spokesperson. This means they can be funded, produced, co-produced and/or shot in Scotland. Scottish individuals in non-Scottish films are also eligible.
The best film actress nominees are Ella Hunt for Anna And The Apocalypse, Shauna Macdonald for White Chamber and Siân Phillips for Voyageuse.
Last month Hunt was named Screen and FrightFest's Genre Rising Star for her role in John McPhail's zombie Christmas musical.
Anna And The Apocalypse has also been nominated for best feature film, alongside Felipe Bustos Sierra's documentary Nae Pasaran and Karen Gillan's directorial debut The Party's Just Beginning.
The BAFTA Scotland awards take place on November 4 in Glasgow. Last year's awards saw Danny Boyle's T2 Trainspotting take three prizes - best film, best director and best film actor for Ewen Bremner.
BAFTA Scotland 2018 nominations
Film actor
Tony Curran - Calibre
Jack Lowden - Calibre
Martin Mccann - Calibre
Film actress
Ella Hunt - Anna And The Apocalypse
Shauna Macdonald - White Chamber
Siân Phillips - Voyageuse
Feature film
Anna And The Apocalypse - Naysun Alae-Carew, Nicholas Crum, Tracy Jarvis, John Mcphail, Alan Mcdonald (Blazing Griffin)
Nae Pasaran - Felipe Bustos Sierra, Colin Monie, Peter Keith, Patrick Neil Doyle (Debasers Filums)
The Party's Just Beginning - Karen Gillan, Mali Elfman, R. Andru Davies, Claire Mundell (Mt Hollywood Films/Synchronicity Films)
Writer, Film/Television
Armando Iannucci - The Death Of Stalin
David Kane - Shetland
Matt Palmer - Calibre
Director – Factual
John Maclaverty - Scotland 78: A Love Story
Matt Pinder - Violent Men: Behind Bars
Felipe Bustos Sierra - Nae Pasaran
Director – Fiction
Armando Iannucci - The Death Of Stalin
Colm Mccarthy - Black Mirror: Black Museum
Matt Palmer - Calibre
Actor Television
Douglas Henshall - Shetland
Chris Reilly - The Last Post
Jonathan Watson - Two Doors Down
Actress Television
Morven Christie - The A Word
Kiran Sonia Sawar - Black Mirror: Crocodile
Elaine C Smith - Two Doors Down
Animation
Scottish Cup - Production Team - Once Were Farmers
Short Changed - Zoë Hutber, Denisa Uherová
Widdershins - Simon Biggs, Will Adams - Scottish Film Talent Network
Entertainment
Armchair Detectives - Production Team – Tiger Aspect Productions/Bbc One
Last Commanders - Toby Stevens, Ryan Meloy, Louise Brown - Omg Scotland/Panda Television/Cbbc
Raven - Production Team - BBC Scotland Children's/CBBC
Features & Factual Series
Class Of Mum And Dad - Production Team – Firecracker Scotland/Channel 4
The Force: The Story Of Scotland's Police - Sarah Howitt, Mick Mcavoy, Alison Pinkney, Shiona Mccubbin – Stv Productions/Bbc One
Violent Men: Behind Bars - Matt Pinder, Liam Mcardle, Iain Scollay, Nicole Kleeman – Firecrest Films/Channel 4
Game
Beckett - Production Team - The Secret Experiment
Cobi Hoops 2 - Production Team - Cobra Mobile
Ooo: Ascension - Kenny Creanor, Bobby Farmer, Tony Mcbride (Extra Mile Studios)
Short Film
I Was Here - Joe Carter, Morna Pearson, Dave Gillies, Susannah Armitage (Scottish Film Talent Network)
My Loneliness Is Killing Me - Tim Courtney, Michael Richardson, Siobhan Fahey, Stuart Condy (Scottish Film Talent Network)
Slap - Simone Smith - Wild Room
Single Documentary
Breadline Kids - Louise Pirie, Audrey Mccolligan, Iain Scollay, Nicole Kleeman (Firecrest Films/Bbc One Scotland)
Life Behind Bars: Visiting Hour - Production Team - Chalkboard/Channel 4
Scotland 78: A Love Story - Production Team - Img Productions Scotland/Bbc One Scotland
Specialist Factual

The Cancer Hospital - Andrew Abbott, Louise Lockwood, Iain Scollay - Firecrest Films/Bbc One Scotland
Imagine…Rupert Everett: Born To Be Wilde - Production Team - Bbc Studios, Pacific Quay Productions/Bbc One
Trust Me, I'm A Doctor - Mental Health Special - Production Team - Bbc Studios, Science Unit/Bbc Two
Television Scripted
Scot Squad - Jack Docherty, Joe Hullait, Rab Christie, Iain Davidson - The Comedy Unit/Bbc One Scotland
Shetland - Production Team - Silverprint Pictures/Bbc One
Trust Me - Production Team - Red Production Company/Bbc One