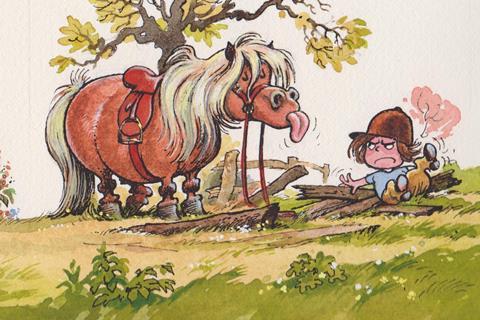 UK filmmaker Candida Brady is set to direct a live-action feature based on the classic Thelwell Ponies cartoons to be produced by her own Blenheim Films.
Merrylegs The Movie will be based on characters created by late cartoonist Norman Thelwell. Set in the remote mountains of Snowdonia, in Wales, filming will take place later in 2021 and is intended for release in 2023 to mark the centenary of Thelwell's birth.
Casting is underway for the role of Penny, a character inspired by Thelwell's daughter, as well as for Merrylegs the pony, although VFX will also be used to bring the animals to life. The feature is intended to be the first instalment of a planned franchise set at Willowbrook Riding Stables.
Thelwell created the comical ponies in the 1950s, when they first appeared in Punch magazine. He went on to become one the UK's most well-known authors and his collection of 34 books to continue to sell worldwide. He died in 2004.
Brady is known for directing drama features including Urban And The Shed Crew and Muse as well as environmental documentary Trashed, which screened out of competition at Cannes in 2012.
Also on board the production is director of photography Peter Field, whose recent credits as a camera operator include Wonder Woman 1984, Fast 9 and No Time To Die.