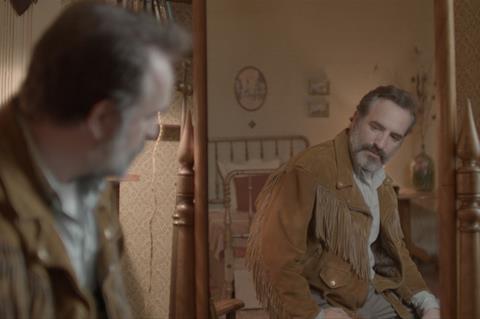 French filmmaker Quentin Dupieux's black comedy Deerskin (Le Daim), starring Jean Dujardin as a man who becomes dangerously obsessed with owning a designer deerskin jacket, has been confirmed to open the 51st edition of Cannes Directors' Fortnight (May 15-25).
Dujardin, best known internationally for his Oscar-winning performance in The Artist, is joined in the cast by Adèle Haenel.
It is a seventh feature for Dupieux who began his career making music videos and advertising, working with the likes of Michel Gondry, and also composing electronic music under the name of Mr Oizo.
After debut features Nonfilm and Steak, Dupieux premiered his third film Rubber in Cannes Critics' Week in 2010. It is his second appearance at Directors' Fortnight where he showed the short film Wrong Cops in Directors' Fortnight in 2012.
It was the first chapter of the feature film of the same name, which premiered at the Sundance Film Festival in 2013.
He followed this with Reality, which premiered at the Venice Film Festival in 2015 and starred Alain Chabat as a director who has 48 hours to find the best whimper in the history of filmmaking.
His penultimate feature Keep An Eye Out, was a surrealist absurdist tale, subverting the 1970s detective genre and starring Benoît Poelvoorde, Grégoire Ludig and Anaïs Demoustier.
Deerskin is produced by Mathieu and Thomas Verhaeghe at Paris-Atélier de Production, with the backing of Arte France Cinema.
The duo previously produced Keep An Eye Out.
International sales on the film are being handled by Paris-based sales company WTFilms which previously handled Keep An Eye Out. Diaphana has acquired French rights for a June 19 release.
The upcoming edition of Directors' Fortnight will mark the first selection piloted by newly-arrived artistic director Paolo Moretti.
The opening film as well as the parallel selection's choice of John Carpenter for its honorary Carrosse d'Or award this year suggest Moretti's tastes chime to with those of his genre-loving predecessor Edouard Waintrop.
The announcement of the full Directors' Fortnight selection will take place on April 23 at its usual Forum des Images venue in Paris.