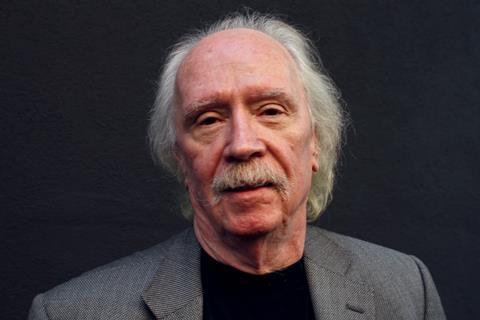 France's directors' guild the Société des Réalisateurs de Film (SRF) has announced it will honour John Carpenter with its Carrosse d'Or award on the opening night of its 51st Cannes Directors' Fortnight on May 15.
The board of the rebellious parallel section praised the Halloween director's mastery of the horror genre, publishing an extract of the invitation letter it had sent to the filmmaker.
"Each of your films enhances the irresistible delight of staging. In each of them, the work on space, on what is off-screen, on the visible and on the invisible, is constantly renewed and regenerated in order to redefine fear," it wrote.
"A fear that is always prone to trigger emotions in characters and actors who have now become iconic: Kurt Russell in New York 1997 or The Thing, Jamie Lee Curtis in Halloween, Adrienne Barbeau in The Fog, Sam Neill in The Mouth Of Madness, without forgetting Karen Allen and Jeff Bridges in Starman, one of the most melodramas of the 1980s," it continued.
The SRF has awarded the Carrosse d'Or award since 2002, honouring filmmakers from the international filmmaking community for the "innovative qualities, courage and independent-mindedness of his or her work."
Martin Scorsese was honoured last year. Previous winners have included Werner Herzog, Aki Kaurismäki, Jia Zhangke, Alain Resnais, and Jane Campion.
Members of the SRF board include Jacques Audiard, Bertrand Bonello, Catherine Corsini, Alice Diop, Pierre Salvadori, Celine Sciamma and Rebecca Zlotowski.
This year's Cannes Directors' Fortnight will mark Paolo Moretti's first edition as its artistic director, following the departure of Edouard Waintrop.
The parallel sidebar has a history of championing genre filmmaking and the choice of Carpenter as Carrosse d'Or honoree suggests it will be continuing this tradition under its new chief.