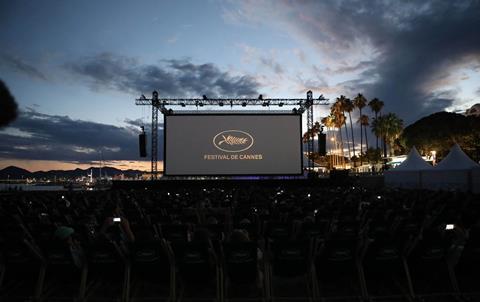 Two world premieres will take place on the beach in Cannes as part of the 2022 Cinema de la Plage lineup – Carine May and Hakim Zouhani's Save Our School and Ange Leccia and Dominique Gonzales-Foerster's Christophe… définitivement.
Save Our School is a French comedy about two teachers' attempts to establish Paris' first suburban 'green school', to quell the competition from a new hall of residence nearby. It is produced by Barbara Letellier and Carole Scotta for France's Haut et Court, in co-production with France 2 Cinema; with France TV Distribution handling sales.
Christophe… définitivement is a musical documentary about the late French popstar Christophe (real name Daniel Bevilacqua).
Directors of both films will be in attendance; the Christophe screening will be followed by a karaoke party.
The section, which takes place on the Macé beach across from the Majestic hotel, runs parallel to the Official Selection screenings.
The remainder of the 12-strong lineup is repertory titles, including Peter Weir's 1998 The Truman Show – inspiration for this year's Cannes poster; Rob Reiner's 1984 comedy This Is Spinal Tap, with Reiner in attendance; Francis Ford Coppola's The Godfather; and Baz Luhrmann's debut Strictly Ballroom, presented by Luhrmann.
Cinema de la Plage 2022 lineup
The Truman Show (1998, US) dir. Peter Weir
This Is Spinal Tap (1984, US) dir. Rob Reiner
Brotherhood of the Wolf (2001, Fr) dir. Christophe Gans
Est-Ouest (1999, Rus-Ukr-Bul-Fr-Sp) dir. Regis Wargnier
The Godfather (1972, US) dir. Francis Ford Coppola
A Monkey In Winter (1962, Fr) dir. Henri Verneuil
Save Our School (2002, Fr) dirs. Carine May, Hakim Zouhani
Strictly Ballroom (1992, Australia) dir. Baz Luhrmann
Christophe… définitivement (2022, Fr) dirs. Ange Leccia, Dominique Gonzales-Foerster
E.T. the Extra-Terrestrial (1982, US) dir. Steven Spielberg
Fanfan la tulipe (1952, Fr) dir. Christian-Jaque
The Last Picture Show (1971, US) dir. Peter Bogdanovich