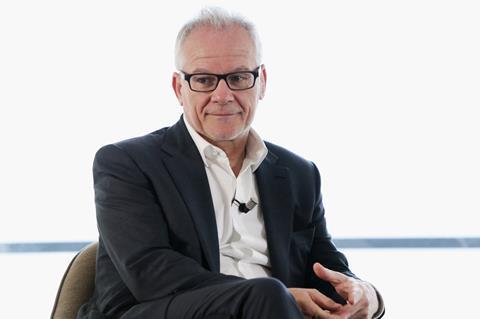 Cannes delegate general Thierry Frémaux has addressed the ongoing dispute between the French festival and Netflix during a Q&A at the Rome Film Fest.
He was speaking with Rome director Antonio Monda to an audience composed of industry members, film critics and journalists.
Cannes hosted two Netflix movies In Competition in 2017 (Bong Joon-ho's Okja and Noah Baumbach's The Meyerowitz Stories), causing an uproar from French distributors. A Competition ban for all movies that refused to commit to theatrical distribution in France followed in 2018.
Frémaux explained that he doesn't agree or disagree with the board of the festival that forced him to issue the ban. "I am neither pro or against Netflix," he said. "My job is to show the state of cinema in a time in which Martin Scorsese is about to release a movie produced by Netflix. In 2017 the board of the festival asked me not to accept any more movies that won't screen in theatres. This isn't strange if you think that exhibitors are in that board. And they are right to be preoccupied by this trend."
Speaking about the next edition, Frémaux hinted that negotiations are ongoing. "I would like to screen every movie I like. I couldn't invite some of these in 2018 [because of the Netflix ban], we'll see about 2019. You need to wait for the next episode."
Frémaux previously told Screen that he almost lost his job after including Netflix films in 2017. Expanding on this, he said: "I decided to select those films In Competition together with [Cannes] [Pierre] president Lescure, knowing that they were hot stuff. Of course the board could have decided that I broke the rules but they didn't because it's a new world and the rules are new too. If I hadn't agreed with that decision I could have quit as well, but I didn't want to because I find all this very fascinating. We are here to invent the future and to create new ways of experiencing films. But yes, exhibitors are powerful in France and they were mad at me."
Frémaux also addressed other hot topics from the last edition of Cannes. He stood by the controversial decision to hold premieres and press screenings at the same time, saying: "It happened to a French movie to be very well received at the premiere while the press screening's reactions weren't that good. We were happy of these different opinions, and the buyers who saw the movie at the gala bought the movie even if press was lukewarm".
He also hinted that plans for a new Palais, first mooted years ago, could be in the works. "That is the right question to ask", he said. "Together with the mayor and president Lescure we started thinking about some major changes".
Finally, Frémaux commented on Venice Film Festival's increase in importance and its relationship with US studios. "I don't understand this obsession with American movies. My friend [Venice director Alberto] Barbera didn't have Kore-Eda's film, nor Korean, Egyptian or Lebanese movies in Competition. I think a festival must show the cinema of the whole world. Still we had Spike Lee and John Cameron Mitchell's film. Venice plays its game and they're right to screen Netflix movies if Cannes doesn't take them, they're also right to play the Oscar card because the press is more obsessed with one night in March than with the six months from July to October."
The Rome Film Fest runs from 18-29 October.