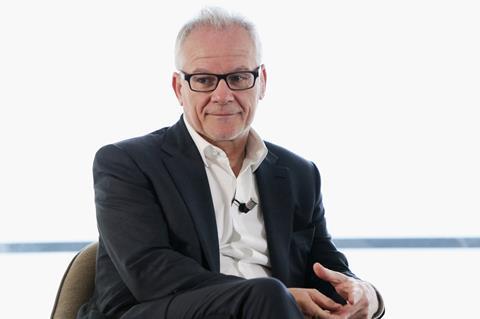 Cannes Film Festival delegate general Thierry Frémaux sat down with Screen to discuss some of the key questions swirling around its 72nd edition following the announcement of the Official Selection in Paris.

There was a sense that the festival was pushing back at this year's press conference after finding itself on the back foot during the last edition following Netflix's decision to take Alfonso Cuarón's ROMA to Venice, amid the ongoing stand triggered by the streamer's distribution model and France's strict media chronology laws.
Frémaux announced that this year's opening ceremony and film, Jim Jarmusch's The Dead Don't Die, will play live in more than 400 participating theatres across France on May 14, in a joint operation involving US studio Universal and French pay-TV giant Canal Plus.
Cannes Film Festival president Pierre Lescure, meanwhile, highlighted the strong box-office performance of Cannes 2018 films such as Hirokazu Kore-eda's Palme d'Or winner Shoplifters, which drew 800,000 spectators in France, and French comedy Sink Or Swim, which clocked some 4.2m admissions at home.
It feels like Cannes is on the offensive rather than the defensive this year in its championing of the big-screen experience. Was this a conscious move?
That's something we've always done. Nothing has changed. But also you can't judge Cannes on the basis of what happens in one edition; you have to look at what's going on over the course of three to five years. Last year, there were particular questions around Netflix as well as the US presence but there were lots of other things going on around other types of cinema. Kore-eda finally got his Palme d'Or, for example, and we've never had an Official Selection which went on to win so many prizes in other festivals and awards.
We're just carrying on with our core activity of putting cinema at the heart of the world for 15 days for the benefit of the auteurs, the cinema industry, the stars and even the media. People can keep talking about Netflix and the Oscars but they're only a part of my preoccupations as the delegate general. There are many other things keeping me busy.
There are other festivals that have chosen to focus more heavily on US cinema and the Oscars but that's not part of our agenda. We're in May, the Oscars are in February. Of course, films that premiere at Cannes can also enter the Oscar race. Look at Spike Lee with BlacKkKlansman. He proved you can be in Cannes in May and still mount a campaign to be in the Oscars in February [and win]. American cinema is very important to us at Cannes but so is the cinema of the rest of the world.
What is the situation with Martin Scorsese's Netflix-backed The Irishman? Was there ever any chance the film might make it to Cannes?
It won't be ready until the end of the year. Both Martin Scorsese and Netflix told me that a long time ago. I don't think there's any strategy on the part of Netflix to keep it away from Cannes. Scorsese is a friend and I speak to him on a regular basis. While I might have hopes for Tarantino's film, I know that Scorsese won't be ready.
That leads me on to my next question. Do you think Quentin Tarantino will finish Once Upon A Time In Hollywood in time?
The press announced that Tarantino would be in the Selection when really he shouldn't have been named as being in the mix. I saw a large part of the film a month ago but I knew then it would be difficult for him to finish the film in time. It is scheduled to come out in July. Will it be ready two months in advance? He wants to come to Cannes, the studio wants it to come to Cannes. I would love him to come and I know he is working hard but I don't know, he doesn't know and the studio doesn't know. We're following it day-to-day.
Linked to that, what do you think of these prediction lists that start to fall thick and fast as Cannes approaches?

I like them. It proves that Cannes is important. Cannes is the only festival in the world where people make these sorts of lists. I'm not going to be snooty. I think it's fantastic. It means we're together. But sometimes, it can be a bit delicate because there are films that we know are not ready or that we've watched and are not good but we would never reveal that. Our tradition is to speak about the films we've accepted, not those we've turned down. But it's not true that I don't like these lists; I just think they should be more in the conditional.
After you made significant changes last year, you've retweaked the schedule again. What was your thinking?
It was a radical reform [last year] but we maintain our conviction that there needed to be a rebalancing of the agenda of the press and the agenda of the gala, to put the spotlight back on the gala. We've tweaked it this year by introducing embargoes. We've been able to do this by eliminating non-press from the press screenings. Before we couldn't guarantee that there would not be tweets.
Cannes became the first festival to sign the festival gender equality charter last year. Do you think you've become more receptive to the concerns around female representation in the festival and will it be reflected in this year's Selection?
I will say exactly the same thing that I've said over the past six, seven years, which is that Cannes and all festivals are at the end of a cycle. We're the echo or reflection of what is going on in the film industry. If there were more female directors in the industry, there would be more female directors at Cannes. It's a question that shouldn't just come up in May at Cannes; it should be on the agenda all year round. For a long time, Agnès Varda, who we are happy to be celebrating on our poster this year, was alone but today we see more women coming through. If you look at the French titles in Competition, there are four titles – two directed by men, two directed by women. In Un Certain Regard, it's the same. When I look at the new generation of filmmakers coming out of Africa – whether it be north, south, east or west – I see more women than men.
Our line remains the same – and it was one pressed upon me by Agnès Varda: there should be no tokenism or indulgent choices in the Official Selection. Films should be selected on the basis of the quality of the work. Agnès Varda would say, "I'm not a female director, but rather I'm a female and I'm a director." There are more women than ever this year but I'm sure there will still be those who will say we have not made enough effort, but we have to continue to take care to select films on merit, we can't simply invite women on the basis of their gender. It's too dangerous. The same journalists who criticise us for the lack of women directors, when the lights go down don't care whether the director is a man or a woman – they're interested more in the quality of the film.