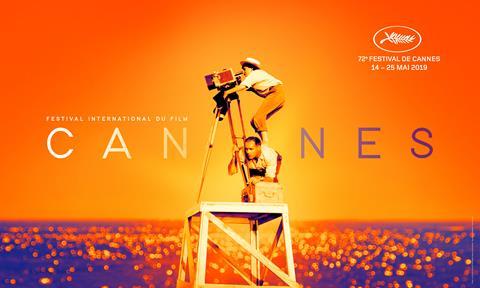 It was interesting to hear delegate general Thierry Fremaux liken Cannes 2019 to Cannes 1939 – the inaugural Cannes Film Festival which never took place, cancelled due to the war. In a way, the press conference for the 72nd edition – Cannes finally held its first festival in 1946 – felt like a call to arms.
The message: Cannes is for cinema, fully behind the theatrical experience. Its allies are its old friends the studios, the cinemas which will now simultaneously show some of the festival's films, and a mix of venerated auteurs with some exciting new – mainly female – talent in official Competition. Cannes had a role in rebuilding cinema after the war, said Fremaux, and it certainly sees one for itself now in the second age of the small screen.
Much of Fremaux's line-up had been predicted, and it's tempting to look at a page with names like Pedro Almodovar, Ken Loach, Jim Jarmusch, the Dardenne Brothers, Marco Bellocchio, Terrence Malick and Elia Suleiman and wonder whether this is a Competition line-up from 20 years ago. (Fremaux did use the word "comeback" more than once.) But that's not quite right. Although it seems as if these auteurs are sticking to their comfort zones when it comes to subject matter, they are the lions of cinema – people you want on your side when it comes to a battle.
They are all masters of the seventh art who can sell tickets to the cinemas with which Cannes is now physically as well as spiritually allied. (The festival is co-operating on French release dates: the opening ceremony and film will be beamed live into 400-odd French cinemas, and some Competition titles will be released commercially during the second week of the festival.)
The closing film slot is currently empty, and it seems clear from Fremaux's comments that the festival is still hoping that Quentin Tarantino's not-quite-ready 35mm Once Upon A Time In Hollywood will defiantly close this cinematic event 25 years after Pulp Fiction was the last film to play in Competition – and won. Fremaux's Cannes press conference had several messages: we're about cinema, we'll fight for it, we've been here a long time, things will change and we'll change with them, and there are more names in the game than Netflix.
Bong Joon-ho, Arnaud Desplechin, Ira Sachs – appearing in Cannes Competition for the first time with a film which stars Isabelle Huppert – Xavier Dolan, Corneliu Porumboiu and Kleber Mendonca Filho (directing with Juliano Dornelles) are also bright stars of world cinema, if a little younger. But when it comes to the excitement of the new we are in mainly female hands this year: Celine Sciamma, Jessica Hausner, Justine Triet and newcomer Mati Diop are the names that truly intrigue in this year's Competition, all appearing for the first time. And there's another first-timer in Diao Yinan, China's most exciting voice in a generation, whose Black Coal, Thin Ice won the Golden Bear at the Berlinale back in 2014 (his 2007 film Night Train played in Un Certain Regard).
There's a strong older men/younger women split to the proceedings, evidence of a historic neglect for female filmmakers which is slowly being redressed. Amusingly, in the Special Screening zone, first-timer Pippa Bianco (Share) – whose short won Cinefondation, guaranteeing her feature a slot in Official Selection – is lined up beside Werner Herzog, Abel Ferrara and 87-year-old Alain Cavalier. But Cannes can be full of odd pairings, with Claude Lelouch's 52-years-later follow-up to A Man And A Woman rubbing shoulders with Asif Kapadia's Maradona documentary and Dexter Fletcher's Rocketman, complete with an appearance by Elton John. It's a high/low-art mix which the festival has perfected over 71 years.
And, indeed, Fremaux was keen to point out that Netflix has only been playing this game for two of these.
Stressing that "we are not here to show films that will not be shown in cinemas," he spoke of a management shake-up at the Palais des Festivals which resulted in more women viewing the thousands of films submitted between November and the end of play last night (10 percent of the line-up still remains unfinalised). He also talked of embargos on film reviews (something Cannes has previously shied away from). He pointed to politics and romanticism being a theme of the films in selection, but it also seemed that Cannes itself was delivering optimism to an industry which is nervous about its own future.
We haven't seen the films yet, of course. But in its role of Defender of Cinema, Cannes itself seems as fierce as its line-up.


Screen International's chief critic and reviews editor, based in the UK