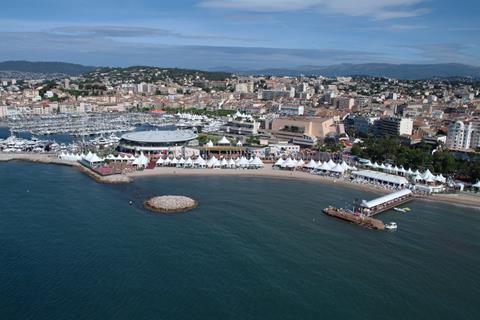 The mayor of Cannes David Lisnard has announced a €500m ($555m) plan to revamp the French city, which includes expanding key festival venue the Palais des Festivals.
The ambitious project, called 'Cannes on Air', would see the Palais add a new 500-seat theatre by adding another floor to the existing building and renovating the Salon des Ambassadeurs, with the revamp costing around €62m ($69m).
Other elements to the citywide revamp would include creating a museum dedicated to the history of the Cannes Film Festival, which would open by 2025 and cost around €200m ($223m); and the creation of a new state-of-the-art multiplex called Cineum Cannes, with 12 screens and a total of 2,426 seats, which would open in June 2020.
The multiplex would be located in Bastide Rouge, a new technology park planned for the west of the city featuring a new university dedicated to the creative sector. (The area is more than 5km from the Palais).
Lisnard unveiled the plans earlier this week (Oct 22) during a presentation at the Paris-based HQ of CNC (National Cinema Centre) attended by key French industry figures, including CEO of Canal Plus Group Maxime Saada, Arte France president Véronique Cayla, Gaumont chairman Sidonie Dumas and César awards president Alain Terzian.
Besides the film festival, Cannes plays host to TV events Mipcom, MIPTV and Canneseries, and advertising festival Cannes Lions.
The 2020 Cannes Film Festival will take place from Tuesday, May 12 to Saturday, May 23, 2020.