This year's Cannes Film Festival rebounded from a rocky 2018 with a robust line-up and new initiatives, but competition from platforms continues to shake up traditional sellers.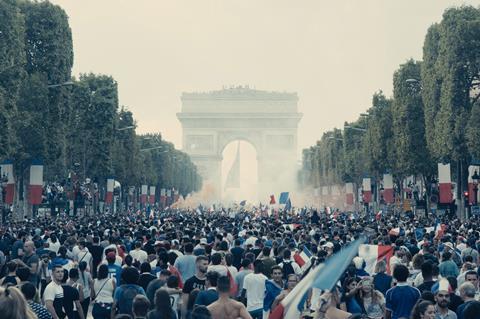 How to watch the final episode of Games Of Thrones, the paucity of female film critics and the emergence of the Neon/Hulu partnership as a US buying force capable of taking on Netflix were among the talking points at the 72nd Cannes Film Festival and its Marché, which celebrated its 60th anniversary this year.
Industry chatter around where and how to catch the Games Of Thrones finale, premiering on WarnerMedia-owned HBO in the early hours of May 20 in Cannes, exasperated some die-hard, cinephile professionals. "Some pros are more willing to watch the last episode of Games Of Thrones on an iPad than a Palme d'Or contender at the Salle Lumiere," bemoaned Frédéric Corvez, CEO of independent film company Urban Distribution International, while also acknowledging this obsession was symbolic of the seismic shifts shaking the cinema industry as the lines between the film and TV world continue to blur.
The phenomenon also chimed with Quentin Tarantino's Palme d'Or contender Once Upon A Time… In Hollywood, set in late-1960s Los Angeles after the so-called golden age of Hollywood had ceded ground to TV, an era that is being echoed again with the rise of the global digital platforms.
The streamers were flexing their muscles once again at Cannes this year, snapping up a raft of Palme d'Or contenders with Oscar hopes throughout the festival. Amazon Studios set the pace early on with its acquisition of US rights for French filmmaker Ladj Ly's Les Misérables, followed by Neon and Hulu's joint acquisition of Céline Sciamma's period drama Portrait Of A Lady On Fire and then Netflix's multi-territory deal for Mati Diop's Senegal-set Atlantics, shortly after it scooped the Grand Prix, as well as the Cannes Critics' Week winner, the feature-length animation I Lost My Body.
Difference of opinion
Non-US sellers said platforms had energised the market for Cannes' trademark auteur selection as well as the line-ups of the parallel Directors' Fortnight and Critics' Week, but there were mixed feelings about what this meant for the wider film sales market. "It was one of my best Cannes ever," commented Olivier Albou, co-chief of Paris-based Other Angle Pictures, who secured a slew of deals on Claude Lelouch's out of competition title The Best Years Of A Life. "It proved to me all that really matters is good films, whether you're trying to sell to traditional distributors or to the platforms."
Albou revealed that a number of platforms had been in touch about Lelouch's film, as had more traditional players: "I can't reveal much as we're in negotiation but it's been exciting this year to see new potential partners and alliances emerging out of the US."
Bérénice Vincent, co-chief of Totem Films, says her company was also in talks with platforms for buzzy Directors' Fortnight title And Then We Danced and Critics' Week selection Land Of Ashes, but questioned their impact on the market. "It's true they were out in force this year but the bidding wars were focused on a handful of titles, mainly with Oscar potential, and caused prices to climb really quickly," she says. "While we rejoice for the titles involved, which resonate in their youthfulness and diversity, when the platforms join the dance, the reality of the market wavers. Traditional distributors can't compete with a platform, apart from in the US, if they're in an alliance, and these distributors are essential for a diversified market."
Corvez echoed those sentiments, emphasising that only a handful of arthouse titles can now secure a proper theatrical release, and noting that platforms are not an alternative for most director-driven films. "Some niches are still attractive, like genre films, animation or documentary, but our industry now increasingly relies on one or two successes per year and per company," he says. "I don't believe it's sustainable. It's a new paradigm with no real diversity."
It was a relatively quiet market for UK sellers, with companies reporting business but eye-catching deals few and far between. Embankment received strong interest in The Father and struck a deal with Lionsgate for UK rights in one of the few significant UK territory deals done in the market. Mister Smith and CAA co-sold Terrence Malick's A Hidden Life to Fox Searchlight for $13m, HanWay inked a deal with big-spending new German player KKR on Jon S Baird comedy Rothchild, and Bankside sold North American rights on Adam Randall's thriller I See You to Saban Films.
Vanessa Saal, managing director, sales and distribution at Protagonist Pictures, says that while the streets and restaurants of Cannes seemed quieter, the company's office "felt as busy as ever, if not busier". Reflecting on the wider market, Saal felt the recent domination of the major SVoD players was not notable. "Netflix and Amazon seemed quite present, but didn't dominate the market or break any records," she says. "Amazon's Les Misérables acquisition was at a very competitive level. Both platforms seemed to be bidding on several titles but didn't make any statement acquisitions."
Saal added that the Neon and Hulu partnership for Portrait Of A Lady On Fire could be indicative of future collaborations. "Theatrical distributors are figuring out how to hedge their risks with other revenues dwindling, SVoD distributors are figuring out how to get films to break out and whether a theatrical component is necessary," she notes. "Very few straight-to-VoD films have become real conversations in the way theatrical movies have."
Marché embraces change
In spite of the market forces rocking the independent film sales sector, which was the bedrock of its creation 60 years ago, the Marché reported "record-breaking" attendance. According to its figures, there were 12,527 registered participants this year, with the biggest delegation hailing from the US (2,264 attendees) followed by France (1,943) and the UK (1,145).
It also noted a rise in the number of countries represented to 121, up from 114 last year. This was fuelled mainly by the launch of the inaugural African pavilion, which encouraged delegations from Cameroon, Ethiopia, Rwanda, Sudan and Tanzania to attend.
Other new initiatives included the family-friendly Le Ballon Rouge scheme, a joint venture between the festival, market and the Parenting at Film Festivals group, supporting film professionals in attendance with babies and young children. The game-changing endeavour laid on a reasonably priced creche, breast-feeding and nappy-changing facilities, free accreditation for babies and young children, and a special screening programme.
Another innovation was the launch of Cannes XR, creating a separate space for the burgeoning realm of immersive technology outside of the Next programme. It featured a curated line-up of 52 VR films, generating 4,751 viewings, and an accompanying conference exploring the latest developments in immersive technology set to shake up storytelling. It was just one example of the Marché's desire to embrace the changes afoot across the film world and remain relevant in its increasingly fragmented and niche-driven environment, alongside other new events devoted to animation and film programmers.
Another leitmotiv of Cannes 2019 was the ongoing campaign to improve female representation across all aspects of the film industry. Data from Cannes Film Festival, Directors' Fortnight and Critics' Week strands around the submission and selection of films by female directors in their respective programmes — released as part of their commitment to the gender equality film festival charter launched by French pressure group Collectif 50/50 last year — showed parity in Cannes is some way off.
In official selection, 28% of the feature-length films were directed by women, while female-directed films accounted for 26% of submissions. In Directors' Fortnight, four of 24 filmmakers in the main feature selection, or 16.7%, were women. Only one of seven features in competition in Critics' Week was by a female director this year.
For the awards, three of the four Palme d'Or contenders directed by women won prizes: Atlantics director Mati Diop won the Grand Prix; Céline Sciamma took best screenplay for Portrait Of A Lady On Fire; and Emily Beecham won best actress for her role in Jessica Hausner's Little Joe.
A raft of events aimed at improving female representation took place up and down the Croisette including the second edition of the female-focused financing meeting Breaking Through The Lens and Creative Europe MEDIA's Women On The Move day. The latter event saw the launch of Collectif 50/50's new initiative to investigate the gender split of film critics in association with European Union's Media programme.
"Just as the festivals are important gatekeepers, so are the critics," Collectif 50/50 co-founder Delphyne Besse told Screen International. "They remain the first port of call for advice on films. There's a lot of unconscious bias and it's always the same white males who voice an opinion that end up being the most followed."
Screen's own research revealed just 15 of 63, or 23%, of the reviews written across the three main trades (Screen, Variety, The Hollywood Reporter) for the 21 films in Competition were by women. Seven of these were by Screen reviewers.
Additional reporting by Tom Grater.