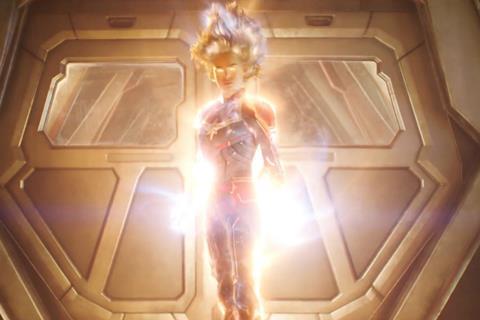 It has been a tough beginning to 2019 for the UK box office. At the end of February, box office receipts were tracking at 24% down on the same two-month period in 2018, which roughly accounts for £57m ($74m) in ticket sales.
Notably absent from the release calendar so far has been a blockbuster hit – last year had Black Panther, which took a huge £50.6m after being released on Feb 13 – but that could change this weekend with the release of Disney's Captain Marvel.
According to Screen sources, the film has already sold a hefty 460,000 tickets in pre-sales at an average ticket price of £11.77, equating to £5.4m in advance bookings.
For comparison, the recently-released How To Train Your Dragon: The Hidden World sold 85,000 tickets in the same period of pre-sales, and then opened with £5.3m. The Lego Movie 2 sold at 90,000 tickets in pre-sales, opening with £4m.
Those numbers indicate that Captain Marvel will far surpass its pre-sales figure with its overall opening. The film is set to play at more than 20,000 UK screens this weekend.
The film will come up against other entries in the Marvel cinematic universe that have focused on introducing a singular character. Those include Thor (opened with £5.4m in the UK and ended on £14m), Captain America (£3m and £10.4m), Doctor Strange (£9.3m and £23.2m), Deadpool (£13.7m and £37.8m), and Black Panther (£18m and £50.6m).
Comparisons will inevitably be made to thethe success of Wonder Woman, part of the rival DC series of superhero films, for its focus on a female superhero. That film underperformed in the UK, opening with £5.8m and ending on £20.3m. Captain Marvel is expected to perform significantly better.
The film may also benefit from being the penultimate entry in "phase three" of the Marvel Cinematic Universe, with the release teeing up the much-anticipated conclusion in the Avengers trilogy, Avengers: Endgame, on April 25. The previous entry, Avengers: Infinity War, posted all-time box office high for a Marvel film (and in fact any superhero film), taking a huge £70.8m last year. This made it the 10th highest-grossing film of all time in the UK. Captain Marvel will look to tap into that hype.
Counter-programming to the Disney blockbuster this week is found in the shape of Thunderbird Releasing's The Kindergarten Teacher. Sara Colangelo's remake of Nadiv Lapid's original Israeli feature stars Maggie Gyllenhaal in the story of a teacher in New York who becomes obsessed with one of her students whom she believes is a child prodigy. The film premiered at Sundance in 2018, winning a directing award for Colangelo.
Also on release this weekend is Universal's Everybody Knows. Asghar Farhadi's Spain-set thriller premiered as the opening film of the 2018 Cannes Film Festival. It stars Penelope Cruz and Javier Bardem in the story of a woman whose daughter is abducted.
Elsewhere, streaming service MUBI is handling the UK theatrical release of Ali Abbasi's 2018 Cannes Un Certain Regard award-winner Border. The film is a MUBI Go title, the initiative introduced last year by MUBI which gives its subscribers free cinemas tickets, and is being released with a full 16-week theatrical window, meaning it can play Picturehouse cinemas this weekend.
Also in cinemas is New Wave's Ray & Liz, the Bafta-nominated debut of English artist Richard Billingham, which has been attracting strong word-of-mouth since its Locarno premiere last year.
Elsewhere, Dogwoof, riding high with the Oscar-winning Free Solo still in cinemas, is releasing Alex Holmes' documentary Maiden, about Tracy Edwards, who became the skipper of the first ever all-female crew to enter the Whitbread Round the World Race in 1989.
Sony Pictures has Catherine Hardwicke's thriller Miss Bala, with Gina Rodriguez, new outfit Parkland Pictures is distributing the documentary Scotch – The Golden Dram, about the titular drink, and Element Pictures is handling the release of Irish drama Rosie, which premiered at Toronto last year.
Key holdovers this weekend include last week's number one film Fighting With My Family (Lionsgate) and The LEGO Movie 2 (Warner Bros).