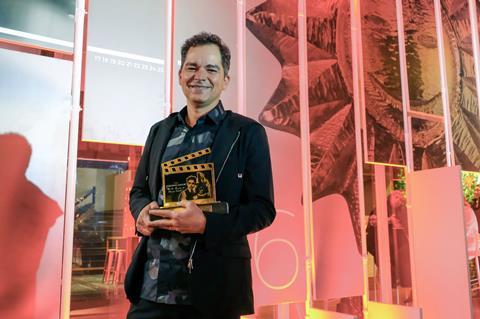 The two-time Oscar-nominated Brazilian filmmaker Carlos Saldanha, whose animation credits include Ice Age: The Meltdown, Ice Age: Dawn Of The Dinosaurs, and Rio, is making his first significant move into live action to shoot Invisible Cities, a high-end drama series he has created for Netflix.
Now in pre-production, Saldanha has confirmed the eight-part series will shoot between Sao Paulo and Rio de Janeiro in 2019. Drawing on Brazilian folklore, Invisible Cities is about a detective whose investigation into a murder case brings him into contact with a world of mythology and fantatsical creatures.
"Unlike my previous work, the series is not for kids. It is a thriller for the adult audience," said Saldanha, who will direct the pilot and some other episodes. "The idea is to use mystical elements about Brazilian culture to give a supernatural aura to realistic situations."
Invisible Cities will star TV Globo soap star Marco Pigossi, whose film credits include Henrique Goldman's O Nome da Morte, in the role of a gunman. Further casting has yet to be announced.
Saldanha's new series will strengthen Netflix's original production presence in Brazil. It has so far produced two series of Pedro Aguilera's dystopian thriller 3% and greenlit a third, as well as the political drama The Mechanism, created by Jose Padilha, the winner of the Golden Bear at the 2008 Berlinale with Elite Squad. Netflix recently commissioned a second series.
Saldanha, who has been nominated for two Oscars – for best animated feature Ferdinand in 2017 and for best animated short (with John C Donkin) for Gone Nutty in 2002 – is looking forward to shooting in his home country for the first time since he shot the live-action segment 'Pas des Deux' from Rio, I Love You, the third portmanteau film in the Cities Of Love trilogy, in 2014.
"Although [animated feature] Rio had a Brazilian heart and soul, the team was formed by foreigners who I brought to do the research in Brazil," Saldanha recalled. "I will work only with Brazilian actors, writers and crew on Invisible Cities."
"I'ḿ seeking new challenges," Saldanha said of his move into live-action TV drama. "I've been working for 25 years at Blue Sky Studios, where I've made seven animated films."
This week the director was honoured with the presitigious Eduardo Abelin prize of the Gramado Film Festival, in the southern state of Rio Grande do Sul. It is one of Brazil's oldest film festivals.
"An animated feature takes too long to be made, about four years. The truth is I can do a lot of other stuff in between," he said.