The Look Of Silence, Meru, The Wolfpack and Amy all received multiple nominations for this year's non-fiction awards.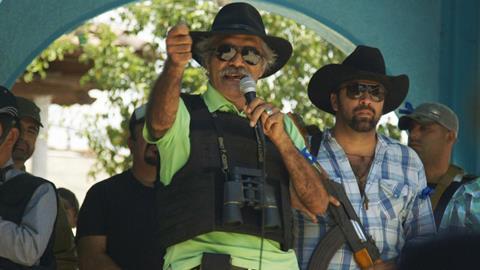 SCROLL DOWN FOR FULL LIST
The 9th Cinema Eye Honours, the international non-fiction awards, were revealed last night at the CPH:DOX festival in Copenhagen.
Cartel Land, Matthew Heineman's film about violence on both sides of the US-Mexico border, leads the pack with five nominations, including the top prize - Outstanding Achievement in Non-fiction Feature Filmmaking.
Also competing for the main award are: Joshua Oppenheimer's The Look Of Silence, which received four nominations; Asif Kapadia's Amy, which received three; Crystal Moselle's The Wolfpack, which also received three; Stevan Riley's Listen To Me Marlon, which received two; and Camilla Nielsson's Democrats, which also received two nominations.
This year's Cinema Eye Honours nominations committee included: Claire Aguilar from Sheffield Doc/Fest; Charlottee Cook from Hot Docs; David Courier from Sundance; and Cara Cusumano from Tribeca.
This year's ceremony will take place on Jan 13 at New York's Museum of the Moving Image.
Contenders
Several of the Cinema Eye nominees are also well represented at other upcoming awards, making them strong contenders for the Oscar's Best Documentary shortlist.
The Look Of Silence, Amy and Listen To Me Marlon will vie for the main prize at the International Documentary Association Awards, which take place on Dec 5 in Los Angeles.
The Look Of Silence and Listen To Me Marlon will also compete in the documentary category at the Gotham Independent Film Awards on Nov 30, alongside Cartel Land.
Amy and The Look Of Silence are also nominated at the European Film Awards, which will talk place on Dec 12.
Voting deadline for the Academy closes next week, with the shortlist of 15 films to be announced in early December.
Cinema Eye Honours nominations
Outstanding Achievement in Nonfiction Feature Filmmaking
Amy
Cartel Land
Democrats
Listen to Me Marlon
The Look of Silence
The Wolfpack
Outstanding Achievement in Direction
Matt Heineman, Cartel Land
Kim Longinotto, Dreamcatcher
Laurie Anderson, Heart of a Dog
Frederick Wiseman, In Jackson Heights
Albert Maysles, Lynn True, Nelson Walker, David Usui and Ben Wu, In Transit
Joshua Oppenheimer, The Look of Silence
Outstanding Achievement in Editing
Amy
Best of Enemies
How to Change the World
Kurt Cobain: Montage of Heck
Listen to Me Marlon
Outstanding Achievement in Production
Cartel Land
Democrats
Going Clear: Scientology and the Prison of Belief
The Look of Silence
Meru
Outstanding Achievement in Cinematography
Cartel Land
The Look of Silence
Meru
Uncertain
Western
Outstanding Achievement in Original Music Score
Cartel Land
Heart of a Dog
Meru
The Nightmare
Western
Outstanding Achievement in Graphic Design and Animation
Drunk Stoned Brilliant Dead: The Story of the National Lampoon
Heart of a Dog
Kurt Cobain: Montage of Heck
The Nightmare
Thank You For Playing
Outstanding Achievement in Nonfiction Short Filmmaking
The Breath
Buffalo Juffalos
Claude Lanzmann: Spectres of the Shoah"
The Face of Ukraine: Casting Oksana Baiul
Hotel 22
Outstanding Achievement in Nonfiction Films Made for Television
Going Clear: Scientology and the Prison of Belief
Deep Web
Outbreak
Private Violence
Whitey: United States of America v. James J. Bulger
Spotlight Award
Almost There
Barge
Field Niggas
Frame by Frame
(T)ERROR
Toto and His Sisters
Outstanding Achievement in Debut Feature Film
Kings of Nowhere
Peace Officer
The Russian Woodpecker
Uncertain
The Wolfpack
Audience Choice
Amy
Best of Enemies
Going Clear: Scientology and the Prison of Belief
The Hunting Ground
Kurt Cobain: Montage of Heck
Meru
What Happened, Miss Simone?
Where to Invade Next
The Wolfpack