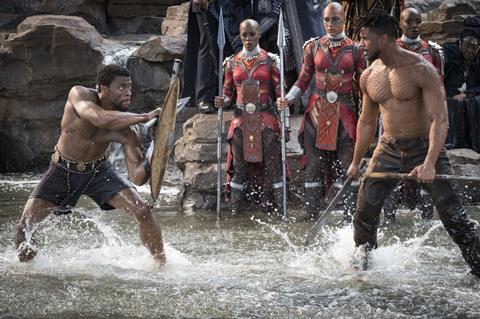 Disney veteran Cathleen Taff has been appointed executive vice-president of theatrical distribution, franchise management, and business and audience insights as Dave Hollis prepares to depart.
The role sees Taff replace the outgoing president of worldwide distribution, who is relocating with his family to Texas and will serve as CEO at his wife Rachel Hollis' company Chic Media.
Taff's expanded role corrals theatrical distribution, franchise management and consumer insights and analytics for Disney, Pixar, Marvel and Lucasfilm under one executive. Taff currently leads franchise management and business and audience insights and will work with Hollis during the transition through May.
"The creation of this new role is a significant step in more effectively supporting and expanding the presence of The Walt Disney Studios' world-class collection of filmmaking studios, and Cathleen Taff is the perfect person to take it on, having demonstrated an expansive knowledge of our business, incisive creative instincts, and boundless resourcefulness over the course of her multifaceted career at Disney," The Walt Disney Studios president Alan Bergman said.
"Having worked closely with Cathleen for over 20 years, I know her to be a savvy business executive and a skilled team and relationship builder who is greatly respected across the board by colleagues and filmmakers. I could not be more thrilled to work with her as we continue to evolve our Studio business."
Taff joined Disney 24 years ago and has headed up integrated planning and franchise management, served as senior vice-president/general manager of Disney Music Group, and senior vice-president /controller of The Walt Disney Studios.
"It's an exciting time at our studio as we continue to chart new territory in so many areas, and when we approached the idea of more closely aligning our robust global distribution operation with our franchise and analytics work, we saw a compelling opportunity to further leverage the strengths of these fantastic teams," Taff said.
"I'm honoured to take on this unique role and, most of all, thankful to be working with the best people in the business, who represent, to me, the limitless possibility that makes Disney special."
Hollis has led Disney's theatrical distribution operation since 2011, most recently scoring a hit with Black Panther (pictured). Under his tenure, Disney set a record in 2016 as the first and still the only studio to cross $7bn worldwide and $3bn in North America in a calendar year. In 2017 Disney became the only studio to have crossed the $6bn worldwide mark twice.
"I am very thankful to Dave for his dynamic and fearless leadership of our distribution organisation, which has seen our studio to incredible heights at the worldwide box office, culminating in our three biggest years on record and, in 2016, the biggest year in industry history," Bergman said. "We are very sad to see him go but wish him and his family all the best."
Hollis said: "I can't count the number of 'pinch-me' moments I've had in my time at Disney, and in a world where so few opportunities could compare, the chance to support my wife and help grow her company was something I couldn't pass up.
"It's been an honour to work with such amazing people over these past 17 years, and I am deeply grateful for each and every one of these friendships and experiences as my family and I embark on the next chapter in our lives. One of those remarkable people is Cathleen Taff – I could not be passing the torch into more bold, capable, or caring hands."