Ukrainian prison drama directed by Peter Kerekes scoops prize.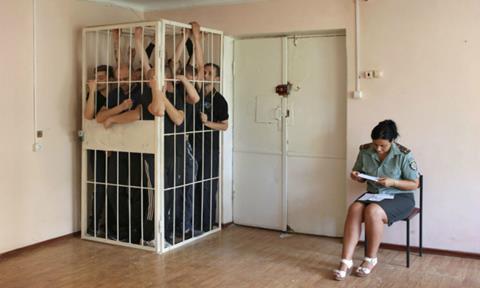 Censor, from Slovakian director and producer Peter Kerekes, has won the 14th edition of the works in progress award at the Karlovy Vary International Film Festival (June 30-July 8).
The film was one of eight selected projects originating from Central and Eastern Europe, the Balkans, Turkey, Greece and post-Soviet territories.
Speaking to Screen at the annual Karlovy Vary Industry Party, where the award was announced, Kerekes described the film.
"It's about a woman who is working as a censor in a prison in Odessa, Ukraine," he said. "8 hours a day she reads love letter as part of her job and she's single as she's lost faith in relationships. Yet at 45 years of age, she's hungry for love."
His previous work includes documentary Velvet Terrorists which made a splash on the festival circuit in 2013. Kerekes is also one of the producers of current Karlovy Vary title The White World According To Daliborek.
The 2017 works in progress award, with a total value of €100,000 ($113,610), includes post-production services at UPP and Soundsquare and a €10,000 cash ($11,361) award from Barrandov Studio.
"It means a lot to me because the competition was really tough and when I was watching them I was really enjoying them," said Kerekes. "Thanks to Sunsquare and UPP this is the place where we can now do some very comfortable post-production, so it's perfect"
The Censor is produced by Kerekes and Hypermarket Film and is still looking to attach a sales agent.
The Eurimages Lab Project Award
The Eurimages Lab Project Award - with Karlovy Vary being one of four international festival to present - went to Italian/Moroccan/French co-production The Stand-In (La Controfigura) directed by Rä di Martino.
The prize goes to projects from Eurimages countries that are currently in production or post-production, are being made outside the traditional filmmaking framework, and involve international co-operation. It is attached with a prize of €50,000 ($56,805).
"For us it's really, really great. It's a big award for such a small film," di Martino told Screen. "It's massive support, both in terms of moral support but also in terms of finishing the film. It will be a great way to back it up and get it out,"
di Martino described the project: "The Stand-In is a very strange mixture of fiction that sees someone try to remake a famous American movie. But it turns out to be a fake 'making-of' as you see us trying to make the remake." The film is produced by Dugong (Italy) and Haut les mains (France).
The jury consisted of Iole Maria Giannattasio (directorate general for cinema of the Italian Ministry of Cultural Heritage), Cedomir Kolar (producer, A.S.A.P. Films) and Susana Santos Rodrigues (film programmer, distributor producer and co-founder of VAIVEM).