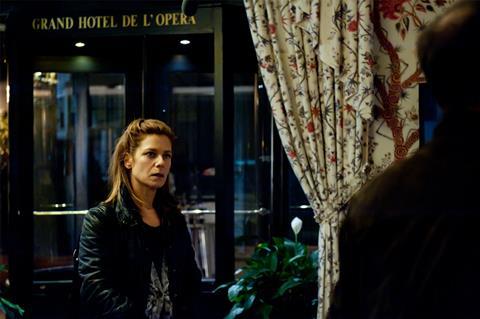 Fledgling sales company Charades - launched by Carole Baraton, Yohann Comte and Pierre Mazars last year - makes its Unifrance Rendez-vous with French Cinema in Paris (Dec 18-22) debut this week with two first features.
The Paris-based outfit, working out of roof-top offices above the Rendez-vous's Gaumont Opéra Cinema screening hub, will kick off sales on Antoine Raimbault's murder trial drama Conviction and Margaux Bonhomme's Head Above Water, about a young woman who takes on the care of her mentally and physically challenged sister.
The company has released exclusive first looks at both films.
"We fell in love with these personal stories at the script stage," said Mazars and Baraton.
"They correspond with our desire to work with young film-makers and defend them internationally as well as support talented female producers," they added.
The company has already had success with first-time filmmakers having handled compatriot Coralie Fargeat's US-set, English-language work Revenge, which sold to multiple territories.
Conviction is inspired by the real-life case of law professor Jacques Viguier who was accused of killing his wife after she disappeared without a trace in 2000.
The so-called "Viguier Affair" gripped French media for more than decade as investigators attempted to piece together the events surrounding her disappearance.
Olivier Gourmet co-stars as Eric Dupont-Moretti, Viguier's real-life lawyer at a second trial, opposite Marina Foïs as a fictitious female character who is convinced of the professor's innocence and decides to fight for his acquittal.
Caroline Adrian, whose past credits include The Names Of Love, is producing under her Paris-based banner Delante Films. Memento Films has acquired French rights to the film which is in post-production.
Raimbault followed Viguier's second trial in person with the original intention of making a documentary about the case before deciding to turn to fiction.
Head Above Water boasts an impressive cast headed by Diane Rouxel (The Smell Of Us, Standing Tall) as 18-year-old Elisa who takes on the responsibility of caring for her mentally and physically challenged sister after their parents split-up but soon becomes overwhelmed by the task. It is not long before love turns to hate.
Caroline Bonmarchand of Avenue B Production is producing. Nour Films has taken French rights.
Other upcoming French-language films on the Charades slate include Guillaume de Fontenay's drama Sympathy For The Devil, starring Niels Schneider as real-life, late French war correspondent Paul Marchand, which was announced last year.