Point Grey Pictures, Denver And Delilah Films and Good Universe announced the project on Thursday.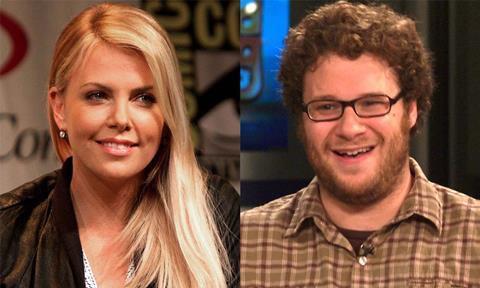 Jonathan Levine, whose credits include 50/50, The Wackness and the upcoming Snatched starring Amy Schumer and Goldie Hawn, will direct from a screenplay by Dan Sterling.
Production on Flarsky is scheduled to begin in August on the story of an unemployed journalist who decides to pursue his childhood crush, who now happens to be one of the most powerful and unattainable women on earth.
Point Grey principals Rogen, Evan Goldberg and James Weaver will produce alongside Denver & Delilah's Theron, Beth Kono and A.J. Dix.
Sterling will also serve as executive producer with Good Universe's Nathan Kahane and Joe Drake.
Alex McAtee is overseeing for Point Grey and Erin Westerman for Good Universe.
Among Sterling's writing credits are Girls, The Office, The Sarah Silverman Program, King Of The Hill and The Interview.
Dan Freedman of Good Universe negotiated talent deals on behalf of producers.