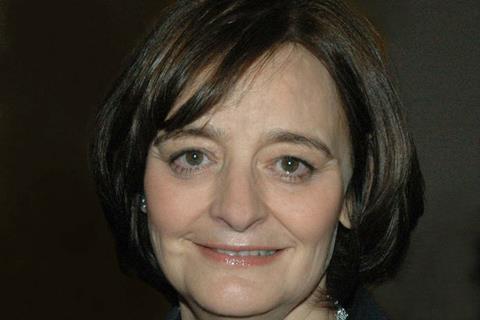 Cherie Blair has boarded UK director John Deery's long-gestating Jerusalem-set drama The Rock Pile. The film explores the Middle East conflict through the tale of a jaded war correspondent assigned to city where he befriends three young boys divided by religion but united by soccer.
Hugh Bonneville, who previously worked with Deery on his 2003 Irish Catholic Church drama Conspiracy Of Silence, signed to play the lead role in 2017.
Blair has taken an executive producer credit and it marks a first foray into film for the barrister and women's rights campaigner, who is the wife of former UK Prime Minister Tony Blair.
She said the project tied in with the work she and her husband had done in the Middle East. Tony Blair was the special envoy of the quartet on the Middle East, a diplomatic mission involving the UN, US, European Union and Russia from 2007 to 2015, while the Cherie Blair Foundation for Women has run a number of projects in the Palestinian Territories.
"Given my own Foundation's work in Israel and Palestine, and Tony's work on the Middle East Peace Process, we are deeply aware of the human cost of the conflict and the benefit of bringing stories about the reality on the ground to a global audience," she said in a statement.
"Stories like The Rock Pile can alter people's understanding, foster engagement and ultimately trigger action for change."
Blair is not understood to have personally invested in the project but is using her knowledge of the region and contacts to help raise the final round of financing.
The English-language drama is about a Time magazine war correspondent who is posted to Jerusalem following a series of traumatic events both at home and in the Middle East.
The screenplay is written by David McBrayer (Beat the Drum), who also takes a producer credit under his Z Productions banner. The other producers are Deery via his London-based Joejack Entertainment, and respected Israeli producer Haim Mecklberg of Tel Aviv-based 2-Teams Productions, whose credits include Sand Storm.
Other executive producers are Charles Moore (Lady In The Van), Gabriela Christian-Hare (Jackie & Ryan), Rick McCallum (A United Kingdom), Mark Foligno (The King's Speech) and David Yelland, a former editor of UK newspaper The Sun and deputy editor of the New York Post in the US.
The aim is to shoot on location in Israel and New York in late 2019 and early 2020, as soon as financing is completed.
Making films about the Middle East conflict can be a cultural and political minefield but Deery told Screen in 2017 that he wanted to gain support for the project from both sides of the conflict.
"People on both sides have read and liked it," he said.