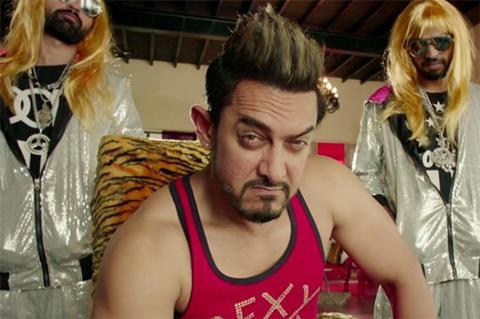 Zhang Ziyi's Forever Young fended off five new titles and climbed to the top of the chart in the week of Jan 15-21, but Indian singing drama Secret Superstar captured the hearts of Chinese audiences over the weekend.
Local drama Forever Young gained stronger traction in its second week with $49.6m for $72.8m after 10 days. It moved to the No.1 spot from Tuesday, overtaking Jumanji: Welcome To The Jungle, until Secret Superstar pushed it to second place on Friday.
With an ensemble cast of Zhang Ziyi, Huang Xiaoming, Chen Chusheng, Chang Chen and Wang Leehom, the film covers four generations of Tsinghua University students over a century. It's originally planned for the 100th anniversary of Beijing's Tsinghua University in 2011.
Following the mega-success of last year's Dangal, Bollywood superstar Aamir Khan returns to China with much fanfare. His latest film Secret Superstar was the top performer over the weekend, taking $29m from its first three days. This has doubled Dangal's opening weekend and surpassed 2014's PK, also starring Khan, to become the second highest grossing Indian film in China.
Sony's adventure sequel Jumanji: Welcome To The Jungle fell to a close third place with $27.7m for $70.9m after 10 days; ahead of local romance comedy The Ex-File: The Return Of The Exes which added $19.3m for $312.9m after 24 days. The latter is currently the fifth highest grossing local film of all time and the eighth highest grossing film overall.
Four new releases followed: Ferdinand, Fox's animation adventure about a young bull, on $10m; Wonder, starring Julia Roberts, on $9.1m; A Better Tomorrow 2018, Ding Sheng's remake of John Woo's classic, on $8.4m; and Bait director Kimble Rendall's English-language action adventure Guardians Of The Tomb, with Li Bingbing, on $6.5m. All of them derived from their first three days, except A Better Tomorrow 2018 which opened one day earlier.
Rounding out the chart were Disney's Star Wars: The Last Jedi on $2m for $44m after 17 days and Feng Xiaogang's Youth on $1.9m for a 38-day total of $235.9m from an extended run.
Maze Runner: The Death Cure, which opens on Jan 26, will be one of the few wide releases this week.