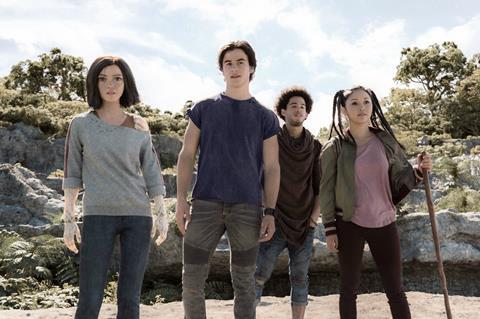 Total ticket sales have reached $1.63bn (RMB11.09bn) in February in China, confirming it as the biggest month in a single market ever.
It is also the second time China has broken such a world record following February 2018.
However, three weeks after the prime Chinese New Year season, the Chinese box office has returned to off-peak levels, with a 36% drop week-on-week between February 25 and March 3.
Fox's cyborg action film Alita: Battle Angel was the highest-grossing film in this seven-day period, grossing $46.2m to take it to $108.4m to date.
It ended the three-week reign of The Wandering Earth. The local sci-fit hit fell to third with a weekly take of $25.5m for a cume to date of $646.1m. It passed the 100m admissions mark, only the second film in China to do so after Wolf Warrior 2.
Universal/DreamWorks Animation's How To Train Your Dragon: The Hidden World opened on March 1 with $31.5m and is second in the seven-day chart. It is the highest debut for an animation since 2017's Incredibles 3.
Furthermore, Saturday March 2 was the biggest single day for an animation in China, surpassing 2017's Coco.
It has already out-performed the lifetime total of the first installment and looks set to create a new record for the three-film franchise. China is the biggest international market so far outside North America.
Riding high on good word of mouth following its best film win at the Oscars, Green Book opened strongly on March 1 in fourth place on the weekly chart grossing $16.5m. (Another big Oscar winner Bohemian Rhapsody is scheduled for March 22.)
Han Han's car racing drama Pegasus climbed one place to fifth taking $6.7m over seven days for a cumulative total of $242m to date. It overtook Ning Hao's comedy Crazy Alien for the first time in the weekly chart. Crazy Alien added $5.7m for $312.7m to date while local animation Boonie Bears: Blast Into The Past took $1.4m for a cume of $100.8m.
Rounding out the weekly chart were high-school romance Fall In Love At First Love which grossed $900,000 this week and has now taken $24.5m to date; Japanese fantasy animation Maquia: When The Promised Flower Bloom, which grossed $800,000 to take it to a $2.4m gross; and Stephen Chow's Chinses New Year holdover The New King Of Comedy which has now garnered $88.6m to date following a seven-day gross of $600,000.
As the Chinese New Year releases finish their runs, international titles poised for release include Japanese animation Natsume's Book Of Friends The Movie: Tied To The Temporal World (March 7) and Disney/Mavel's Captain Marvel (March 8).