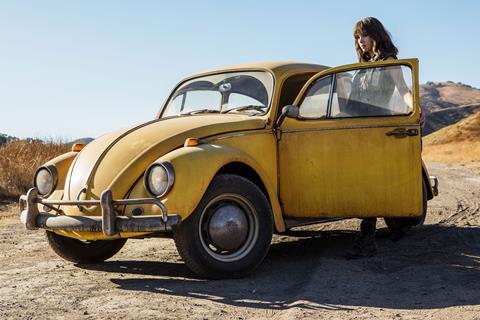 Thanks to the strong debut of Bumblebee, the Chinese box office soared by 67% week-on-week in the period of Dec 31 2018 – Jan 6 2019.
Paramount's Transformers spinoff Bumblebee flew to the top of the Chinese box office with $59.8m from its three-day opening weekend, becoming the first Hollywood blockbuster of the New Year. It opened slightly above Rampage, which went on to become the eighth biggest foreign film of 2018.
Local comedy drama Kill Mobile came in second with $50m for $74.79m after 10 days. Produced by Zhang Yibai and adapted from 2016 Italian film Perfect Strangers, it marks the directorial debut of Yu Miao, the screenwriter of local love comedy hit Some Like It Hot and its upcoming sequel. The ensemble cast features Tong Dawei, Ma Li and Huo Siyan.
Kaili Blues director Bi Gan's latest film Long Day's Journey Into Night, starring Tang Wei, ranked third with $40.84m from its first seven days. The film, which premiered at Cannes' Un Certain Regard last year, scored the strongest opening for a local art film on its first day (Dec 31). But its box office took a nosedive right after when it turned out to be a slow-burning arthouse fare than an unforgettable romantic love story as advertised. Its first-day gross accounted for almost 93% of its seven-day total.
Warner Bros' global smash hit Aquaman still made solid business in its fifth week, adding $22.2m for $283.4m after 31 days. It has out-grossed The Ex-File: The Return Of The Exes and Venom to become the 14th biggest film overall in Chinese history.
Sony animation Spider-Man: Into The Spider Verse added $13.9m for $59.7m after 17 days. It closed out 2018 as the highest grossing Hollywood animated film of the year.
This week's new releases include The Big Shot (Jan 10), Fate/Stay Night: Heaven's Feel and White Snake (both on Jan 11). As none of these are expected to reach major blockbuster status, Bumblebee is expected to continue its box office reign.