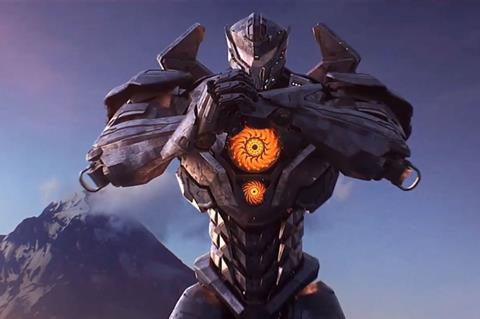 Hollywood dominated the Chinese box office in the week of Mar 19-25, as Pacific Rim: Uprising became the third US film in a row to top the charts, following Black Panther and Tomb Raider.
Legendary East's action sci-fi sequel stormed the charts with $68.3m from its first three days, almost on par with Black Panther in early March. This represented almost 60% of the first film's final gross in 2013, preparing the franchise for a new record. It was also almost 2.5 times more than its simultaneous North American debut.
That the film was partially filmed in Chinese city Qingdao and features several Chinese actors such as Jing Tian (The Great Wall) and Zhang Jin (The Grandmaster) are believed to be a draw for the Chinese audiences.
Warner Bros' Tomb Raider was pushed to second with $29.5m for a gross of $73.2m after 10 days, making China the film's biggest market to date.
After more than a month on release, Dante Lam's military action film Operation Red Sea maintained well in third place grossing $12.6m to take it to a gross of $594.4m to date. It has already surpassed The Mermaid to become China's second highest -grossing film ever, but the gap with Wolf Warriors 2, China's biggest film in history, remains wide.
Local documentary Amazing China grossed $11.5m over the period to take it to a total gross of $66.2m after 24 days, while Disney's Black Panther fell to fifth, grossing $7.1m over the week and $108.6m to date. It lags behind other Marvel superhero films such as Guardians Of The Galaxy Vol 2, Thor: Ragnarok and Spiderman: Homecoming.
More holdovers followed: Salman Khan's Indian hit Bajrangi Bhaijaan on $6.5m for $44.5m after 24 days; Oscar best picture The Shape Of Water on $5.3m for $16.6m after 10 days; local action comedy Detective Chinatown 2 on $4.7m for $563.9m after 38 days; and Sony's animation Peter Rabbit on $1.7m for $25.6m after 24 days. Dog film Pup Star rounded out the charts with $1.2m from its first two days.