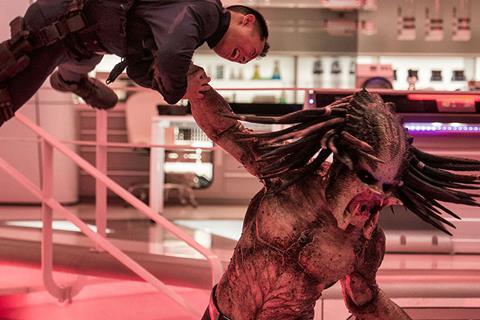 The Predator, the first mainstream Hollywood release since Mission: Impossible – Fallout's opening two months ago, failed to provide a much-needed boost to the lacklustre Chinese box office, which fell further by 3% week-on-week in the period of Oct 22-28 to become the second quietest week of 2018.
Despite the strong summer months, the Chinese box office has been in decline every week in October and almost every week in September. The month of October will record negative growth compared to the same period last year.
Fox's sci-fi action reboot The Predator opened top with $19.3m from its three-day opening weekend, which was slightly below its North American debut in September.
National Day champion, Hong Kong crime thriller Project Gutenberg dropped to second after topping the weekly charts for three straight weeks with $13.5m for $170.9m after 29 days.
Local animation Crystal Sky Of Yesterday opened in third with $7.3m from its three day debut. The coming-of-age drama revolves around the friendship and first love of a group of high school students in a small town in the late 1990s.
Lu Yue's kidnapping drama Lost, Found, starring Yao Chen and Ma Yili, fell to fourth with $5.6m. Its 24-day total of $37.4m is considered remarkable, given its serious subject matter and its female-centric perspective.
Indian drama Hichki about an aspiring teacher with Tourette syndrome took $5.4m for $16.7m after 17 days. It has surpassed Toilet – EK Prem Katha to become the fourth highest grossing Indian film in China this year.
It was followed by animated musical adventure Smallfoot on $3.9m for $7.8m after 10 days; action comedy The Spy Who Dumped Me on $2.8m for $8.5m after 10 days; and Zhang Yimou's historical epic Shadow on $2.5m for $88.6m after 29 days.
Rounding out the weekly chart are two new releases: Jeffrey Lau's Kung Fu League on $1.8m and Taiwanese singer Kenji Wu's directorial debut Crazy Little Things on $1.4m, both from their first three days.
This week's new openings include The Nutcracker And The Four Realms, Iceman: The Time Traveller and The Hurricane Heist, all scheduled for Nov 2.