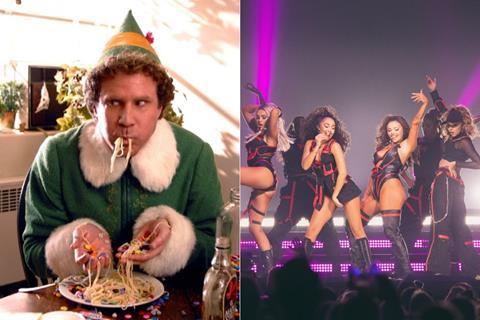 | | | | | |
| --- | --- | --- | --- | --- |
| Rank | Film (Distributor) | Three-day gross (Dec 11-13) | Total gross to date | Week |
| 1 | Elf (Warner Bros) | £96,986 | £177,353 | 2 |
| 2 | Home Alone (Park Circus) | £86,933 | £149,330 | 2 |
| 3 | Little Mix: LM5 - The Tour Film (Trafalgar Releasing) | £83,273 | £83,273 | 1 |
| 4 | Superintelligence (Warner Bros) | £63,492 | £66,318 | 1 |
| 5 | Love Actually (Universal) | £42,508 | £36.7m | - |
GBP to USD conversion rate: 1.33
Re-releases of festive favourites Elf and Home Alone led another quiet weekend at the UK-Ireland box office, which also included an event release about the UK girl group Little Mix and Melissa McCarthy comedy Superintelligence.
Warner Bros' re-release of Jon Favreau's Christmas comedy Elf held the top spot for a second week, taking £96,986 from 204 locations for a cume of £177,353. This was up on the £48,244 taken by the film the previous weekend, showing some growth, albeit small.
But with around two-thirds of all cinemas remaining closed in the territory, due to ongoing Covid-19 restrictions and a lack of major new releases, these figures are a fraction of the box office generated over the equivalent weekend last year when Junamji: The Next Level opened with £5.2m and the top five alone surpassed £11m in takings.
In total, 313 sites were open in the UK and Ireland over this weekend, compared with the previous weekend's 254 (around a quarter of cinemas in the territory). This will be impacted by plans to close all of London's cinemas again from Wednesday, as the city moves into Tier 3 - England's highest level of coronavirus restrictions.
Retaining its second place position from last week was Park Circus' re-release of 1990 Christmas comedy Home Alone, taking £86,933 from 159 locations for a cume of £149,330 (for this December re-issue).
The best-performing new title was concert feature Little Mix: LM5 - The Tour Film, an event release by Trafalgar Releasing in 157 locations on Saturday and Sunday, which follows the UK pop group's 40-arena tour promoting their fifth album. It took £46,354 on Saturday and £36,919 on Sunday for a gross of £83,273 and location average of £646 with more sites yet to report.
Trafalgar also handled the one-day release of music documentary Don't Let The Devil Take Another Day, about Sterophonics frontman Kelly Jones, which took £6,599 from 33 sites ahead of its on-demand release on December 18.
Warner Bros' new release was Melissa McCarthy comedy Superintelligence, which opened with £63,492 from 178 locations, for a cume of £66,318 and location average of £380.
The top five was rounded out by Universal's Love Actually, the 2003 romantic comedy directed by Richard Curtis, which took £42,508 from 158 locations for a £354 average. The film has taken £36.7m since first being released 17 years ago.
Universal also has Ron Howard's 2000 Christmas comedy The Grinch on re-release, which took £26,091 from 46 locations over the three-day weekend for a £580 average.
Paramount opened bounty hunter thriller Dreamland, starring Margot Robbie and Finn Cole, which reported takings of £22,424 from 150 locations, an average of £158. The studio also has comedy crime thriller Pixie on release, which took £20,693 from 93 locations and is up to £393,472 after eight weeks.
Signature Entertainment opened animated sequel Space Dogs: Return To Earth and grossed £11,848 from 124 locations for an average of £96. Including previews, the family film is up to £18,490.
Signature also has action thriller Honest Thief on release. The former box office leader, starring Liam Neeson, took £28,607 from 95 locations for a £301 average. After eight weeks, the film has taken £730,522.
Also on its eighth week of release is eOne's animated sequel Two By Two: Overboard!, which took £26,966 from 163 sites over the three-day weekend for a cume of £1.05m.
A further new title was STXfilms' pandemic thriller Songbird, starring Riverdale's K.J. Apa, which opened with £8,567 from 39 locations for a £190 average.
Wildcard Distribution's animation Wolfwalkers dropped out of the top five on its third week with takings of £22,324 from 86 locations for an average of £266 and a cume of £109,016.
Also leaving the top five, on its second week, was Munro Film Services' A Christmas Carol. Jacqui Morris' animated take on the Charles Dickens classic took £24,934 from 130 locations for an average of £160 and a total to date of £53,036.
Altitude's documentary Crock Of Gold: A Few Rounds With Shane MacGowan added £3,919 from 28 locations for an average of £157. After two weekends, it has reached £18,113.
Other Park Circus releases of Christmas favourites included The Polar Express (£28,350 from 78), Muppet Christmas Carol (£24,610 from 112), Die Hard (£22,884 from 110) and Home Alone 2: Lost In New York (£13,798 from 51).