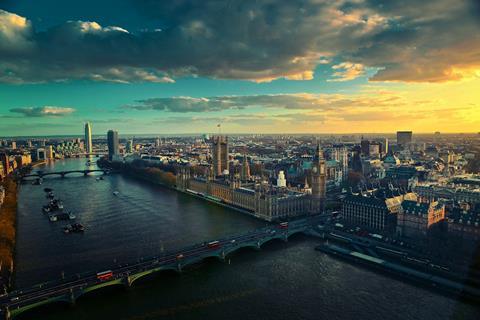 London is set to move into England's highest tier of Covid-19 restrictions, meaning the UK capital's cinemas will be forced to close from Wednesday (December 16).
A statement by health secretary Matt Hancock outlined plans to move London into Tier 3, the highest level of restrictions, following a sharp rise in new coronavirus cases, even as a widespread rollout of a vaccine continues in the UK. This will come into effect at 12:01am on Wednesday.
The tier system is looked at every 14 days, with the next review set to take place on December 30, meaning cinemas in London could remain shuttered until 2021.
On Monday afternoon, Hancock told the House of Commons that London was one of several areas in the south of England that had "seen very sharp, exponential rises in the virus" in the last week.
"We have to take swift and decisive action, which unfortunately is absolutely essential to control this deadly disease while the vaccine is rolled out," he said, adding that "hospitality settings must close".
Hancock acknowledged the move would prove a "significant blow" to businesses but urged that it was "absolutely essential" to prevent a further rise in cases.
The timing coincides with Warner Bros' release of Wonder Woman 1984, the first major studio title to go into cinemas since Christopher Nolan's Tenet and only the second tentpole feature since the first UK lockdown was enforced in March.
There are close to 200 cinemas operating in London, including 48 in the West End, according to Comscore.
Independent venues and major exhibitors such as Odeon and Vue only reopened on December 11, the end of the most recent month-long lockdown. Over the past weekend, 80 cinemas were open in London.
Phil Clapp, chief executive of the UK Cinema Association (UKCA), said exhibitors would be "devastated" by the decision to place London into Tier 3.
"UK Cinema Association members with sites in the capital will be devastated by today's decision to place London into the very high (Tier 3) alert level," said Clapp.
"That will be not so much by the decision itself – the UKCA and its members have been and remain supportive of steps to reduce the transmission of Covid-19 – but because the resultant closure of over 100 cinema sites in the capital will, while causing significant economic and community damage, not actually be making any contribution to efforts to tackle the virus.
"Like those in the rest of the country, cinemas in the capital have worked extraordinarily hard to safeguard audiences and staff alike. It is worth stating again that not a single case of Covid has been traced back to a UK cinema. Yet those sites will be required to close when non-essential retail – where safeguarding measures are undoubtedly less exacting – will be allowed to remain open.
"The decision is of course all the more heart-breaking in that it comes in the week that Wonder Woman 1984 is released into UK cinemas."
The UKCA recently launched a lobbying and social media campaign aimed at persuading government to provide targeted funding for its members, many of whom are struggling to survive the challenges presented by Covid-19.
"These latest developments only underline the need for all cinemas to now receive targeted financial support from government if they are to survive Covid-19, something which is the focus of our Keep the Magic Alive campaign," added Clapp.
"While finance made available through the Culture Recovery Fund in England and associated programmes in the devolved nations has been very welcome, this has only benefited smaller operators, in the main.
"Even here the question must now be whether that support will be sufficient. But for the larger operators who make up 80% of the sector, they have not so far seen such funding, although their needs are no less acute."