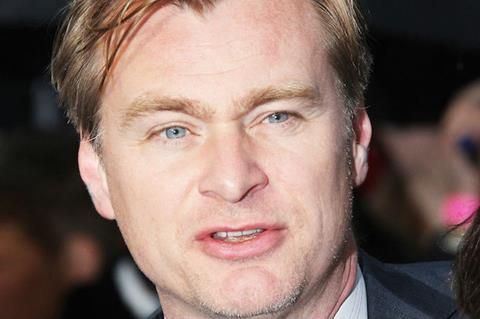 Longtime Warner Bros collaborator Christopher Nolan has blasted the decision to send Warner Bros' entire 2021 feature slate to HBO Max day-and-date with their US theatrical releases, branding the fledgling platform as "the worst streaming service".
The UK filmmaker and staunch defender of cinemagoing made his comments to press at a junket on Monday (December 7) to promote the DVD release of Tenet, the sci-fi thriller that Warner Bros released theatrically worldwide in early autumn in what was a show of support for Nolan and exhibitors stricken by the pandemic.
At the time the studio earned kudos from cinema owners and the industry for sticking by the film, which has earned a so-so $360m worldwide, and giving exhibitors something new to release after months of enforced closure.
However, much of the goodwill for Warner Bros and parent WarnerMedia drained away after Thursday's HBO Max announcement, which blindsided filmmakers and has left them, their representatives, and the exhibition community incensed.
"Some of our industry's biggest filmmakers and most important movie stars went to bed the night before thinking they were working for the greatest movie studio and woke up to find out they were working for the worst streaming service," Nolan said in a statement to press.
"Warner Bros. had an incredible machine for getting a filmmaker's work out everywhere, both in theatres and in the home, and they are dismantling it as we speak. They don't even understand what they're losing. Their decision makes no economic sense, and even the most casual Wall Street investor can see the difference between disruption and dysfunction."
Observers have speculated the initiative behind the bombshell originated at WarnerMedia parent AT&T in a bid to curry favour with Wall Street and bolster HBO Max's content offering after a lacklustre start for the streaming platform.
The platform operates in the US, and is scheduled to roll out in Latin America and parts of Europe by the second half of 2021, by when it will need a richer roster of film and TV to appeal to new markets.
Hollywood is infuriated by the lack of warning prior to Thursday's announcement. Warner Bros reportedly contacted talent agencies beforehand, but the announcement has left the industry stunned nonetheless.
On Thursday AMC Entertainment head Adam Aron took WarnerMedia to task for a move he said would sacrifice the profitability of Warner Bros and its production partners, adding that the exhibitor would "aggressively pursue economic terms that preserve our business".
Content creators, and finance partners are scrambling to work out their next steps. Reports on Monday said Legendary Entertainment, which co-financed two films on Warner Bros' 2017 slate – Dune and Godzilla vs. Kong – was considering legal action. A Legendary spokesperson offered no comment.
Despite claims by WarnerMedia Studios and Networks Group chair and CEO Ann Sarnoff that the HBO Max arrangement was a "unique one-year plan", many have been scratching their heads over the term length given that vaccines and a return to cinema-going may not be as far off as previously thought.