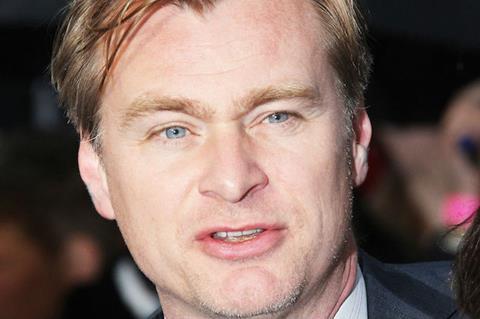 Christopher Nolan has delivered a pointed love letter to cinema and the theatrical experience to exhibitors gathered at the annual UK Cinema Association conference in London today.
The UK-born, US-based director of films including the Dark Knight Trilogy, Interstellar and Dunkirk, said he is "about to start shooting" his next film with Warner Bros and will be working with exhibitors to maximise its effect.
Nolan said of the project that he "will certainly be asking [exhibitors] to really help us, and asking you to be our partners in terms of putting on a show for the audience and giving them a reason to come out for the evening, and engage with the world of cinema which we all love so much."
Nolan did not reveal any details about his new project or where it will shoot. Warner Bros will release it on July 17, 2020, the same point in the year Dunkirk was released in 2017.
In a pre-recorded, eight-minute, single-take speech to camera, Nolan apologised for not being present at the conference and thanked the audience "for everything you've done for me and for my films and for the audiences who've come to my films in the past. And thank you in advance for everything you're going to do for me on the next film."
He told the exhibitors "what we never want to forget is the idea of showmanship…whatever the economic realities are, whatever costs need to be cut or corners need to be cut".
Nolan is a renowned supporter of both the theatrical experience and the conservation of film projection. He noted how his formative cinema-going experiences contributed to this belief.
"My memories are not just of the films themselves and the amazing adventures unfolding on screen; they're also of the sense of occasion, of being a young child entering an architectural space that's so much bigger and grander than myself; the thrill of the curtains opening, moving to enlarge the screen for a widescreen presentation.
"Above all," he continued, "my enduring memories are of scale, of the size of screen, the idea of seeing people and places that are larger than life, potentially overwhelming but engrossing and involving."
"It is a tremendously exciting time to be putting films into cinema," he said, and suggested there are more exhibition options open to filmmakers than ever before.
"It's been really quite marvellous over the last 20 years to see more of a renaissance, to see more innovation and thought going into the exhibition side, of presenting our films."
"I've actually been really enjoying a lot of my cinema experiences in the UK, in terms of what different cinemas are doing to get the feeling of atmosphere to an audience."
Nolan said he recognised the challenge posed by home entertainment to the theatrical experience. "The pressure is on us as never before to give people a reason to get out of the house."
He said that a lot of the responsibility to do that lies with filmmakers, "to use the big canvas that [exhibitors] can supply us, and tell stories in an exciting way, and bring fresh ideas, fresh takes on existing genres and new genres – inventing new genres."
Exhibitors are partners in that endeavour, he said. "It's been great to realise that we have partners out there who can innovate, who can build theatres and renovate theatres in exciting new ways to bring new audiences in, and give people a reason to get out of the house."