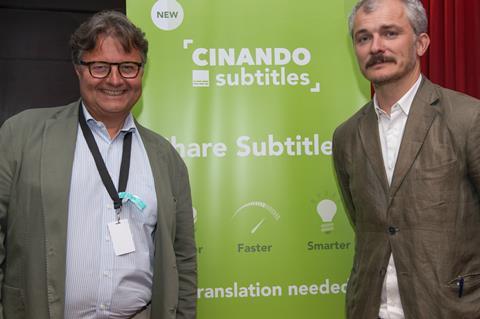 Cannes market executive director Jerome Paillard on Tuesday (November 28) launched Cinando Subtitles at Ventana Sur in Buenos Aires.
The free online tool is available to all Cinando members and is designed to support the distribution of European films by sharing subtitles with more than 300 VOD platforms, 1,500 distributors, and 1,700 festivals.
Cinando Subtitles will allow industry professionals to store, promote, search, find, buy and reuse existing subtitles. Paillard, who also serves as Ventana Sur co-director, said the service offers festivals and distributors the means to find and acquire subtitles in the language they need, while VOD platforms can locate subtitles for a film in multiple languages.
Under current practice, VOD platforms, festivals and distributors produce their own subtitles on a case-by-case basis and retain the rights, which can make it costly and time-consuming for other users to track down and acquire the subtitles.
The European Commission supports the new platform in partnership with 10 industry players including European sales agent network Europa International, and the Karlovy Vary International Film Festival, which has already proposed more than 400 subtitles.
Cinando said it will not take any fees from a subtitle transaction, allowing sellers to keep 100% of revenue. Sellers can set the price of their subtitles, although the Cinando team will advise on pricing and approve subtitle providers, and conduct a quality check of the subtitles and convert them to the TTML standard advanced format before each subtitle is assigned a unique ISAN number. The team will manually check the eligibility of parties requesting the service and request they sign a code of conduct.
The platform will offer free, secure long-term archives, and film rights-holders are notifed whenever a subtitle is shared. The European Commission supports the new platform in partnership with 10 industry players including Euopean sales agent network Europa International.
"I'm thrilled to present this new tool that for the first time will connect subtitle owners such as festivals with industry members searching for them, therefore allowing to share subtitle costs," Paillard, pictured with Karlovy Vary artistic director Karel Och, said.
"Thanks to Cinando Subtitles, the film industry will benefit from a centralised market place that will make the subtitling process smooth and cost-effective. I am convinced that this tool will be key to decision-making when a distributor or VOD platform is looking to buy a film."