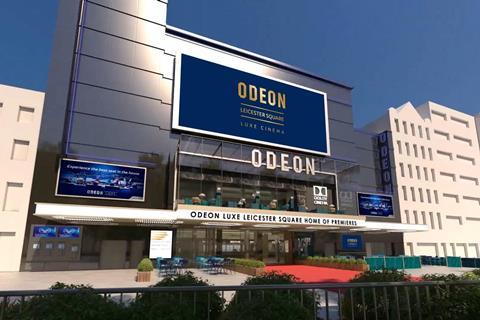 UK-based exhibitors Cineworld and Odeon have highlighted the need for robust health and safety measures, ahead of plans to reopen their sites in England next month.
It follows a greenlight from the UK government that cinemas in England can reopen from July 4, following more than three months of closures due to the Covid-19 pandemic. Social distancing has also been reduced from two metres to one metre, meaning more seats can be filled at venues.
The devolved UK nations of Scotland, Wales and Northern Ireland have yet to announce reopening dates for cinemas.
Odeon, which is owned by AMC Theaters and has 122 sites in the UK and 11 in Ireland, has yet to confirm an exact date for reopening but has said it will begin doing so "from July".
"We welcome the government's decision to allow cinemas to reopen in England," said an Odeon spokesperson. "We have been working hard to implement new health and safety measures across all of our sites, and we look forward to sharing with our guest's details of this, and plans for reopening, very soon."
Cineworld has previously stated it plans to reopen its UK cinemas from July 10. In a statement released today, following the government announcement, the exhibitor said: "The health and wellbeing of our customers and employees is our top priority.
"We are following government guidelines in order to make cinemagoers feel as comfortable and safe as possible. This includes implementing measures such as: arranging cinemas in a manner that promotes and maintains social distancing, staggering film start and end times, setting up additional hand sanitising stations, undertaking an advanced cleaning programme and providing staff with Covid-19 specific training.
"We will ensure a safe and enjoyable cinematic experience for all our visitors and we remain committed to being the best place to watch a movie."
Cineworld and its boutique arm Picturehouse have seen all its cinemas closed across the UK since March 18. Cineworld is the world's second-largest exhibitor and operates 102 cinemas in the UK and Ireland, and more than 1,030 screens. Picturehouse Cinemas owns and operates 25 neighbourhood cinemas and programmes a further 40 venues across the UK.
The government announcement is expected to trigger the release of Covid-19 safety guidelines in the coming days, compiled by a cinema industry taskforce.