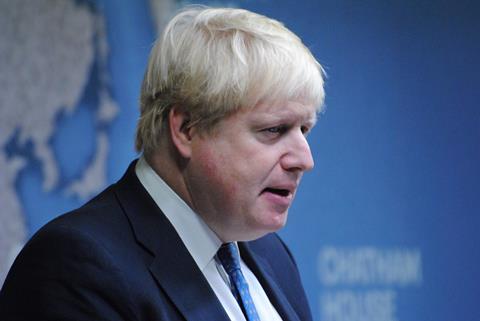 Cinemas in England will be able to reopen from July 4 and social distancing will be reduced to "one metre plus", the UK government has announced.
It confirms a date that has long been proposed, with multiplex chains such as Cineworld and Vue already announcing plans to reopen after three months of closures due to the Covid-19 pandemic.
But the current two-metre social distancing rule would not have proved financially viable to smaller chains and venues, which would only be able to fill 25% of screens.
By reviewing distancing regulations, as part of a further easing of coronavirus restrictions, the government has thrown a lifeline to cinemas that have remained closed nationwide since March 20.
UK prime minster Boris Johnson announced the plans in a statement to Parliament today (June 23), which also covered pubs and restaurants as well as leisure facilites and tourist attractions.
"Given the significant fall in the prevalence of the virus, we can change the two-metre social distancing rule from July 4," said Johnson. "I know this rule effectively made life impossible for large parts of our economy, even without other restrictions. For example, it prevents all but a fraction of our hospitality industry from operating.
"Where it is possible to keep two metres apart, people should, but where it is not, we will advise people to keep a social distance of one metre plus, meaning they should remain one metre apart while taking mitigations to reduce the reduce of transmissions."
These mitigations include reducing the number of people in enclosed spaces, improving ventilation, using protective screens and face coverings, and providing hand sanitizer.
"Most leisure facilities and tourist attractions will reopen if they can do so safely including outdoor gyms, playgrounds, cinemas, museums, galleries, theme parks and arcades as well as libraries, social clubs and community centres."
Cinema guidelines expected
It has also given the greenlight for the publication of Covid-19 safety guidelines for cinemas, which have been in the works for months but will now likely be published just two weeks ahead of reopening.
UK cinemas have lost an estimated £5.7m ($7.1m) per day through a combination of eliminated revenues such as box office and screen advertising revenue. With the reopening date of July 4 marking 105 days of closures since March 20, that adds up to total losses of £110.7m ($137.5m).
"We will publish Covid secure guidelines for every sector that is reopening and slowly but surely these measures will restore a sense of normality," said Johnson.
The devolved UK nations of Scotland, Wales and Northern Ireland have yet to announce reopening dates for cinemas but the prime minister said "all parts of the UK are now travelling in the same direction".
UK Cinema Association chief executive Phil Clapp welcomed today's announcement: "[It] is hugely welcome not just to cinema operators in England, but also we know to the many regular cinemagoers who can't wait to get back to enjoying the big-screen experience.
"We welcome in particular the acknowledgement implicit in today's statement of the work the sector has undertaken in reassuring Ministers that cinemas in England can reopen safely for audiences and staff members alike. While discussions with the devolved governments in Scotland, Wales and Northern Ireland continue, today is undoubtedly a significant step forward for the UK cinema sector."
Andy Leyshon, CEO of the Film Distributors' Association, said: "FDA and its members welcome the confirmation from Government that cinemas can reopen in England from 4 July onwards, and hopefully decisions on the reopening dates for Scotland, Wales and Northern Ireland will follow soon.
"The revised one metre plus social distancing rule will also make it that much more economically viable for cinemas to come back again as one of the leading leisure choices for consumers. Absence definitely makes the heart grow fonder, and we are really looking forward to seeing both the return of cinemas and cinemagoers."
However, UK creative industries union Bectu continued to express concern for staff. Bectu head Philippa Childs said: "News that cinemas and art galleries can re-open again with reduced levels of social distancing in place is welcome. However, this does not mean that cultural life will return to normal.
"There is still a huge amount of work to be done on messaging and ensuring that staff working in these organisations fully understand how things will operate and are protected from COVID-19. Even with reduced social distancing there are also questions about whether independent cinemas and art galleries will be financially viable."
Reversal if numbers rise
Health secretary Matt Hancock said yesterday that the virus was "in retreat" in the UK but the government has warned that any easing of restrictions will be reversed if there is a rise in new cases.
There were fewer than 1,000 reported cases of Covid-19 in the UK on Monday, the lowest daily figure since lockdown began on March 23, while the number of daily virus deaths fell to 15, the lowest since March 15.
"The number of new infections is declining by 2-4% daily," added Johnson. "Four weeks ago, an average of 1 in 400 people in England had Covid-19. In the first half of June, this figure was 1 in 17,000.
"While we remain vigilant, we do not believe there is currently a risk of a second peak of infections that might overwhelm the NHS."