A full screening of the latest Marvel Studios tentpole was the highlight of Wednesday morning's Disney presentation at Caesars Palace in Las Vegas.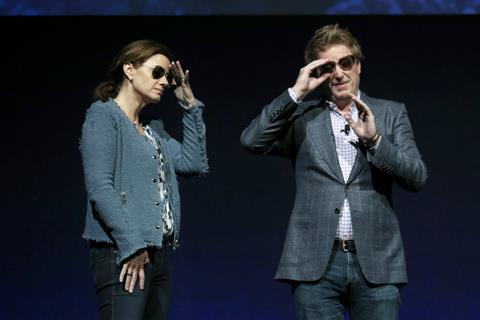 Walt Disney evp of theatrical distribution and session host Dave Hollis introduced Captain America: Civil War as the finale and the show did not disappoint.
The end credits brought sustained applause from delegates and press. Civil War stars Chris Evans, Robert Downey Jr, Scarlett Johansson, Anthony Mackie, Chadwick Boseman, Sebastian Stan and most of the regular Avengers cast.
The film opens in major markets in the last week of April and debuts in North America on May 6. The world premiere took place in Hollywood on Tuesday night.
Earlier in the session director Andrew Stanton and producer Lindsey Collins (pictured wearing sunglasses) appeared on stage and introduced the opening 27 minutes of Pixar's sequel Finding Dory, which opens on June 17 and delighted the crowd.
Earlier Hollis ran through the upcoming slate, which includes the December release of Lucasfilm's Rogue One: A Star Wars Story starring Felicity Jones, and Benedict Cumberbatch starrer Doctor Strange from Marvel Studios that debuts on November 4.
The executive played trailers from both, as well as a teaser from Steven Spielberg's Roald Dahl adaptation The BFG, scheduled to open on July 1.
Hollis also plugged this week's North American release The Jungle Book, which has already ventured into select territories, as well as Walt Disney Animation Studios' November release Moana, Alice Through The Looking Glass, Pete's Dragon, and The Queen Of Katwe.
Referring to the latter, a romance starring Lupita Nyong'o and David Oyelowo that arrives on September 23, Hollis got a big laugh when he said, "If you don't weep at this movie, you are a cyborg."
The executive added the standard CinemaCon sentiment when he said: "It's a great time for movies and it's a great time for movies in movie theatres. It's still the best bang for your buck out there and we see proof of that time and time and time again."