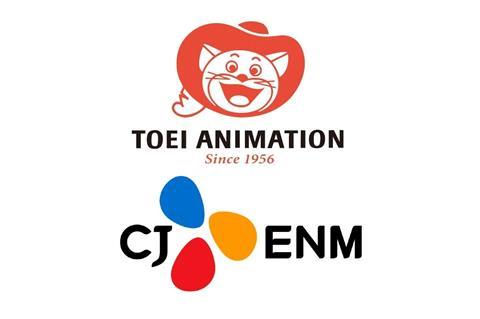 South Korean media powerhouse CJ ENM and Japan's leading Toei Animation announced today they have formed a strategic partnership to produce content targeted at global audiences.
The companies have agreed to collaborate on drama series, films and animation making use of each other's extensive vaults of intellectual properties (IP) as well as developing new IPs.
Known globally for multiple Oscar-winning film Parasite, CJ ENM's credits also include internationally popular TV series such as Crash Landing On You and Hotel Del Luna as well as music game show format I Can See Your Voice, which has been remade in 23 countries outside of Korea.
CJ ENM also has a strategic investment in Skydance Media with which it is co-producing a drama series and is also participating in the production of the HBO TV series adaptation of Parasite.
Since its establishment in 1956, Toei Animation has released 13,100 episodes in the form of 255 theatrical films and 228 TV animation series. Known as the Disney of Asia, Toei Animation's franchises include Dragon Ball, One Piece, Galaxy Express 999 and Sailor Moon.
The companies have set up a task force with employees from both companies to push forward rapidly with developing content that can target not just their two home markets but also global distribution.
Jongmin Yi, head of IP sourcing at CJ ENM's Content R&D Center, said: "Toei Animation's IP have a strong fandom that comprises middle-aged people to young people around the world so when it is made into transmedia such as drama series or movies, it can have significantly far-reaching impact. In the same way, we expect the more than 5,000 IPs that CJ ENM has can be a treasure trove of an infinite imagination for Toei Animation."