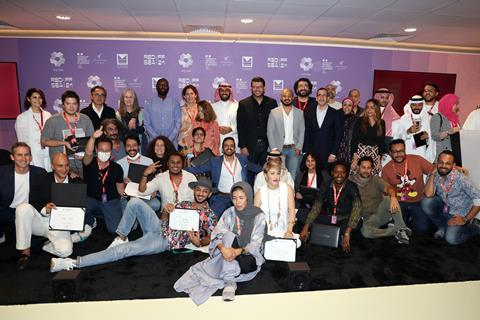 Egyptian-UK filmmaker Lotfy Nathan's debut fiction feature Contra scooped the top $30,000 post-production at the inaugural Red Sea Souk project market over the weekend.
The Tunisia-set, post-revolutionary tale follows an impoverished young man who is left in sole charge of his younger sisters when his father dies suddenly. It is lead produced by Julie Viez at Paris-based Cinenovo and Films Constellation is handling sales.
It was among five works in progress and 11 in projects in development or production, and another 12 projects developed under the auspices of the Red Sea Lodge programme showcased at the co-financing event, unfolding within the framework of the first Red Sea International Film Festival.
The work in progress jury comprised Fespaco artistic director Alex Moussa Sawadogo, Palestinian director Annemarie Jacir and French director Ladj Ly, while Ahmed AlMulla, poet and director of the Saudi Film Festival, US producer Alix Madigan, Greek producer Thanassis Karathanos assessed the projects in development and production.
Souk in development, production prizes
For the Souk prizes in development and production, Tunisian director Mehdi M. Barsaoui's Aïcha won the $100,000 award for best feature film project in production.
It is Barsaoui's second feature after his prize-winning drama A Son. It revolves around a young woman living in a backwater in southern Tunisia who attempts to build herself a new life in the capital of Tunis after she is reported as having died in a tragic bus crash.
Habib Attia at Tunis-based Cinétéléfilms, whose recent credits include The Man Who Sold His Skin, is lead producing.
Zimbabwean-Egyptian director Naishe Hassan Nyamubaya's drama Akashinga won the $25,000 jury prize for best Souk project in development.
It is about two sisters who clash over the impact of conservation on their community after one of them joins the first all-female anti-poaching team for a local wildlife park. It is lead produced by Jérémie Palanque at French production company Woooz Pictures.
In an additional Red Sea Souk award, Canadian-Lebanese director Lara Zeidan was granted a $25,000 special mention for Birthday, about a Beirut teenager whose birthday party plans are interrupted by an outbreak in internecine hostilities.
Red Sea Lodge prizes
The $100,000 jury prize for the best Saudi project in development went to Dalyah Bakheet's The Photographer Of Madina, inspired by the true story of the director's great-aunt who rose to become a celebrated photographer in the 1930s in Madina after a flying against convention to get divorced.
A $100,000 prize for best project by a non-Saudi filmmaker was awarded to Jordanian director Zaid Abuhamdan' for his genre tale The Zarqa Girl, about a tough street-fighting heroine who rises to power in a world dominated by male thugs.
Collateral awards
There were also a number of sponsored prizes.
Cairo-based post-production company The Cell Studios awarded a $10,000 DCP package to Thierno Souleymane Diallo's The Cemetery Of Cinema, about the search for Guinean director Mamadou Touré's 1953 short Mouramani, the first film shot by a black Francophone director.
The Cell Studios also gave a $10,000 promotion package to Wissam Charaf's Beirut-set, star-crossed love story Dirty, Difficult, Dangerous, and a $15,000 colour grading package to Moroccan filmmaker Adnane Baraka's Fragments from Heaven, about a nomad and a scientist who unite in a spiritual quest as they search for meteorite fragments in the desert.
Tunisian-based film production company Leyth Production presented the $15,000 post-production prize to Moroccan director Hicham Ayouch's Abdelinho, about a man with a passion for Brazil who gets on the wrong side of a conservative televangelist.
The Arab Cinema Centre award, consisting of an all-expenses-paid trip to the 2022 Rotterdam Lab, went to Saudi director Abrar Qarim's Zeba, following a family of four women who make a life-changing trip from Afghanistan to Mecca, and Egyptian filmmaker Khaled Mansour's Cairo-set tale Seeking Haven for Mr. Rambo, about a man looking for a place to live with his beloved dog.
Cairo-based Arab cinema marketing and distribution company Mad Solutions, offered a $50,000 minimum guarantee prize to Tunisian director Mehdi Hmili's The Seasons of Jannet about a group of female textile workers who unite to take over the ailing factory where they work.
Rising local indie distributor Cinewaves Films granted a $50,000 minimum guarantee award to Qari's Zeba.
The Arab Radio and Television Network (ART) granted a $50,000 prize to Jordanian director Ameen Nayfeh's Montreal, a coming-of-age tale about a young Dubai-raised boy who is sent back to his father's native village in Jordan for the summer.
A second ART $50,000 prize went to Saudi director Mo Alatawi's Within Sand about a man who bonds with a wolf as he crosses the desert to unite with his pregnant wife.
Pan-Arab streaming platform Shahid awarded a $100,000 distribution prize to Saudi director Jawaher Alamri's drama Hala's Aziz about a woman who goes on a liberating road trip that gives her strength to escape her dysfunctional marriage.