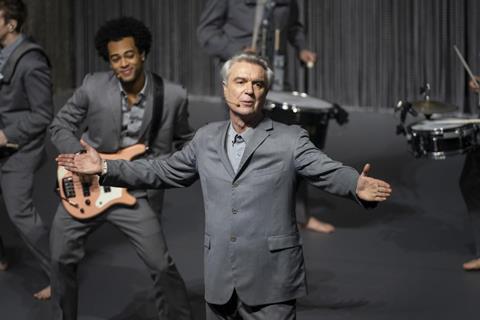 Copenhagen International Documentary Film Festival (CPH:DOX) has revealed the full lineup for its 2021 edition, which includes features by Werner Herzog, Spike Lee, Gianfranco Rosi and Frank Oz.
A total of 180 documentaries have been selected for the festival, which will take place virtually from April 21 to May 5. CPH:DOX also plans to screen a selection of films in Copenhagen cinemas from May 6-12, if the Danish government goes ahead with its plan to reopen theatres. Those titles have yet to be revealed.
The programme includes Lee's American Utopia, documenting David Byrne's 2019 Broadway show, and the former Talking Heads frontman will also take part in a virtual discussion during the festival.
Other notable filmmakers in the lineup include Herzog, who teamed with Clive Oppenheimer to direct Fireball: Visitors From Darker Worlds, which explores the influence of meteors and comets on Earth.
Oz's In & Of Itself has been selected for CPH:DOX's special premieres strand and explores illusion and identity through magician Derek DelGaudio's one-man show.
The festival has also selected Notturno, from Italian filmmaker and Golden Bear winner Rosi; My Psychedelic Love Story, about LSD guru Timothy Leary, by Oscar-winning US documentarian Errol Morris; and the epic State Funeral by Cannes award-winning Ukrainian director Sergei Losnitza.
As previously announced, the 18th edition of CPH:DOX will open with Phie Ambo's climate change documentary 70/30 and the festival's industry activities will take place entirely online from April 23-30.
The festival also previously revealed its line-up of competition titles, which will compete over five strands including the main DOX:Award competition. Others competitive sections include New:Vision Award, F:Act Award, Nordic:Dox Award and Next:Wave Award.
The digital programme also includes 40 live debates, an interactive art programme and talks with more than 80 filmmakers.
Films on the CPH:DOX streaming platform will be geoblocked to Denmark, but the 14 projects in the interactive programme will all be available globally.
Likewise, online talks and panels will be available worldwide, including the talks with performance artist Marina Abramovic, the subject of documentary 512 Hours, which will receive its world premiere at the festival; philosopher Slavoj Zizek; and three active members of the Hong Kong Movement as part of CPH:DOX event strand An Evening With.