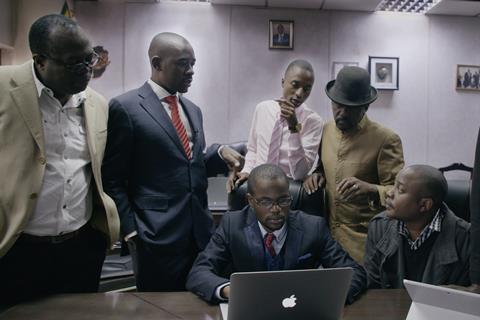 Copenhagen International Documentary Film Festival (CPH:DOX) has revealed its line-up of competition titles for 2021, set to run April 21 to May 2.
The programme includes films that focus on the dominance of tech giants, new democratic movements, decolonization and climate change among other topics.
The competition programmes consist of 64 titles with 47 world premieres, nine international premieres and six European premieres. In total, 58% of the titles (37 films) are directed by one or more women. This increases to 66% when including films co-directed by male and female directors.
The main DOX:AWARD competition includes the world premiere of Our Memory Belongs To Us, co-directed by Signe Byrge Sørensen, the two-time Oscar-nominated Danish producer of The Act Of Killing and The Look Of Silence.
The documentary, which marks the feature debut of co-director Rami Farah, centres on three exiled journalists who reunite 10 years after the Syrian uprising to watch footage from the beginning of the revolution. The film is a Syria-Denmark-France-Palestine co-production.
Sørensen also produces another film in competition, President by Danish director Camilla Nielsson, which takes place in Zimbabwe during the weeks around the country's first elections after the dictatorship. The film premiered at Sundance in January, where it won the special jury award for verité filmmaking.
Nanfu Wang's In The Same Breath, which investigates Covid-19 and the global health crisis it sparked, will also receive its international premiere in competition at CPH:DOX, after debuting at Sundance. Chinese filmmaker Wang previously won the grand jury prize at Sundance with One Child Nation, which was also selected for CPH:DOX in 2019.
Also set for its international premiere at the festival is The United States Vs. Reality Winner, directed by Malaysia-born, US-based Sonia Kennebeck, which centres on a 25-year-old whistleblower who became an enemy of the Trump administration after leaking a document allegedly showing Russian interference in the US elections. The film debuted at SXSW and follows Kennebeck's young hacker portrait Enemies Of The State, which premiered at Toronto 2020 and was recently acquired by IFC Films for North America.
Other world premieres include A Man And A Camera, Dutch director Guido Hendrikx's follow-up to refugee documentary Stranger In Paradise, which won the special jury award at IDFA in 2016 and played in competition at CPH:DOX in 2017.
The main competition also includes Phie Ambo's climate change documentary 70/30, which was previously announced as the opening film of the 18th edition of CPH:DOX, which is set to take place as a hybrid of physical and digital screenings and events.
This year's edition has moved into April from its original dates of March 17-28, as a result of Covid-19 restrictions in Denmark. The decision has been made to provide a better chance of staging physical events and screenings in theatres, while plans continue for a digital programme that will be available to Danish audiences.
CPH:DOX Competition 2021
DOX:AWARD
15 films including 10 world premieres, four international premieres and one European premiere
70/30 (Den)
Dir: Phie Ambo
A Man And A Camera (Neth)
Dir: Guido Hendrikx
Children Of The Enemy (Swe-Den-Qatar)
Dir: Gorki Glaser-Müller
Gabi, Between Ages 8 And 13 (Swe)
Dir: Engeli Broberg
Life Of Ivanna (Rus-Nor-Est-Fin)
Dir: Renato Borrayo Serrano
Our Memory Belongs To Us (Syr-Den-Fr-Pal)
Dirs: Rami Farah, Signe Byrge Sørensen
Passion (Swe)
Dir: Maja Borg
Skál (Den-Faroe Islands)
Dirs: Cecilie Debell, Maria Guldbrandsø Tórgarð
The Last Shelter (Mali-Fr-S Afr)
Dir: Ousmane Samassekou
The Mushroom Speaks (Switz)
Dir: Marion Neumann
In The Same Breath (US)
Dir: Nanfu Wang
Lost Boys (Fin)
Dirs: Sadri Cetinkaya, Joonas Neuvonen
President (Den-US-Nor-Zim)
Dir: Camilla Nielsson
The United States Vs. Reality Winner (US)
Dir: Sonia Kennebeck
White Cube (Neth-Bel-DR Congo)
Dir: Renzo Martens
NEW:VISION Award
All Of Your Stars Are But Dust On My Shoes (Leb)
Dir: Haig Aivazian
Best Year Ever (US)
Dir: James N. Kienitz Wilkins
Industries Of Freedom (Den)
Dirs: Freja Sofie Kirk, Esben Weile Kjær
Listen To The Beats Of Our Images (French Guiana-Fr)
Dirs: Maxime Jean-Baptiste, Audrey Jean-Baptiste
Look At Me (Den)
Dir: Christian Falsnaes
My Favorite Software Is Being Here (US)
Dir: Alison Nguyen
Night Splitter (US)
Dir: Kaari Upson
Re-Dit-En-Un-In-Learning (Fr-UK)
Dir: Laure Prouvost
Shadow Codex (Fin)
Dir: Saara Ekström
Shelly Belly Inna Real Life (Fr-Arg)
Dir: Cecilia Bengolea
Summer Night By The Beach (Den-Nor)
Dirs: Kirsten Astrup, Maria Bordorff
Two Minutes To Midnight (Isr-Ger)
Dir: Yael Bartana
F:ACT Award
Behind The Headlines (Ger)
Dir: Daniel Sager
Invisible (Greece)
Dir: Marianna Kakaounaki
Room Without A View (Ger- Austria)
Dir: Roser Corella
Sabaya (Swe)
Dir: Hogir Hirori
The Gig Is Up (Can)
Dir: Shannon Walsh
All Light, Everywhere (US)
Dir: Theo Anthony
The Other Side Of The River (Ger-Fin)
Dir: Antonia Kilian
The Tiger Mafia (Switz-Kenya)
Dirs: Karl Ammann, Laurin Merz
Too Fast To Be True (Den)
Dirs: Anna Thyrri, Stine Uldbjerg Hansen
When A City Rises (HK)
Dirs: Han Yan Yuen, Cathy Chu, Iris Kwong, Ip Kar Man, Huang Yuk-kwok, Jenn Lee, Evie Cheung
Writing With Fire (India)
Dirs: Rintu Thomas, Sushmit Ghosh
Nordic:DOX Award
Elsewhere (Den)
Dir: Vibeke Bryld
Follow You Home (Den)
Dir: Kathrine Ravn Kruse, Denmark, World Premiere)
He's My Brother (Den-Nor)
Dir: Cille Hannibal / co-dir. Christine Hanberg
How To Kill A Cloud (Fin)
Dir: Tuija Halttunen
Julia&I (Swe-Den)
Dir: Nina Hobert
Oh, It Hertz! (Nor)
Dir: Gunnar Hall Jensen
Raising A School Shooter (Den-Swe-Fr-Bel)
Dir: Frida Barkfors, Lasse Barkfors
Seyran Ateş: Sex, Revolution And Islam (Nor)
Dir: Nefise Özkal Lorentzen
Solutions (Den)
Dir: Pernille Rose Grønkjær
The Banality Of Grief (Den)
Dir: Jon Bang Carlsen
The Hero's Journey To The Third Pole – A Bipolar Musical Documentary With Elephants (Ice)
Dirs: Andri Magnason, Anní Ólafsdóttir
Trust Me (Nor)
Dir: Emil Trier
Next:Wave Award
A Story Of One's Own (Fr)
Dir: Amandine Gay
All-In (Bel-Neth-Fr)
Dir: Volkan Üce
Cannon Arm And The Arcade Quest (Den)
Dir: Mads Hedegaard
Captains Of Zaatari (Egy)
Dir: Ali El Arabi
Dark Blossom (Den)
Dir: Frigge Fri
Eastwood (Iran)
Dir: Alireza Rasoulinejad
Fiasco (Leb-Neth)
Dir: Nicolas Khoury
Holgut (Bel)
Dir: Liesbeth de Ceulaer
Reconciliation (Slo-Ser-Mont-Kos)
Dir: Marija Zidar
So Foul A Sky (Col-Sp-UK-Ven)
Dir: Álvaro F. Pulpeiro
The Soldier (Den)
Dir: Nikolaj Møller
You And I (Indo)
Dir: Fanny Chotimah
Politiken:Danish:Dox Award
Cannon Arm And The Arcade Quest (Den)
Dir: Mads Hedegaard
Dark Blossom (Den)
Dir: Frigge Fri
The Soldier (Den)
Dir: Nikolaj Møller
Raising A School Shooter (Den-Swe-Fr-Bel)
Dirs: Frida Barkfors, Lasse Barkfors
Too Fast To Be True (Den)
Dirs: Anna Thyrri, Stine Uldbjerg Hansen
70/30 (Den)
Dir: Phie Ambo
President (Den-US-Nor-Zim)
Dir: Camilla Nielsson
Skál (Den-Faroe Islands)
Dirs: Cecilie Debell, Maria Guldbrandsø Tórgarð
Loves Me, Loves Me Not (Den)
Dirs: Andrine Moland, Caroline Mathilde Salic, Kathrine Skibsted
From The Wild Sea (Den)
Dir: Robin Petré